10 Apps That Pay You!
Share This:





Money from Apps!
There seems more and more, day by day, which there is an increasing amount of ways to make money online. Using an app to do it while on the go, seems practical in this modern day. Where time is so very precious. Where you have a few spare moments standing in line or waiting to see the doctor, you could be more productive. Earning, baby.
Don't discount earning from apps, just because it not that much money, (Maybe the money is the most significant thing to using the apps) it can also get you thinking or bridging that gap in your mind, that you are a creator and can pave your own way. Taking action to move in a forward direction to better things. This is how I started thinking differently and made changes toward my goals and betterment of my life. So, making money from Apps is my starting point to better things.
So, why not? Right?
Don't forget I also have other ways and apps to earn, posted on my Earn Money from Home page. If you like making money with apps you will love these two as well; they are great ways to earn a little bit of money.
Is Receipt Hog A Scam and ReceiptPal Review. Most importantly, my highest recommended way to make money online, Wealth Affiliate Review.
1. Surveys On The Go (ONGO) – This app is for Android phones and iPhones and IPads, which pay you for doing brief surveys. Sign up is quick and painless. They pay money via PayPal, which is plus, not points or gift cards. Cash. They do have a $10.00 payout threshold though. Which might take a while to earn that much, but the surveys are short compared to how much is paid. Short surveys are always great.$1.00 Surveys are the normal pay, but they vary in the amount paid. 8 out of 10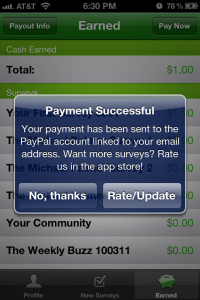 ---
2. SlideJoy – Get paid for using your android phone. SlideJoy pays you to occupy the screen lock on your phone which it displays advertisement relevant to you. So basically every time you check your phone, SlideJoy puts a card on your screen. A card could be a news story or a promotion or add. You simply swipe Left to find out more information about it by taking you to the website or to watch a video, Up to see a different card or Right to the home screen. You can also slide Down you can see all your notifications and favorite apps.
Doesn't seem to affect how quickly you can get access your phone and you don't have to engage with the app in order to get paid. So, it pays the same whether you interact with the app or not. Which is good. You can expect to make $5.00 a month for this app. Overall, doesn't feel too invasive. They pay either through PayPal, check or donate your earnings to charity. 8 out of 10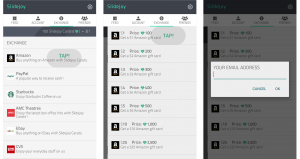 ---
3. BookScouter – iOS or Android – If you have two avid readers in your house, like my household, with totes upon totes of herniating, disk bulging containers filled with publicated tree pulp, you will love this app. Can you tell, I have moved a lot in my life? Bookscouter is an app that lets you earn money for selling your old books. You either enter or scan the barcode on the book to immediately compare buyback price, then choose the buyer with the best price and ship for free. Wonderful, right? Quick and easy too. 9 out of 10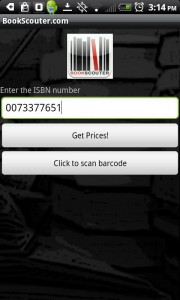 ---
4. Ebates – iOS or Android – You have to get this app! This app pays you to shop online. Really? Yes, really. There are 1,800 stores you are eligible to shop at, which is pretty much all of the major stores, Amazon, Kohls, eBay, Walmart, Groupon, and many more. They pay you up to 40% cash back on every purchase. Another great feature, which there are many with this app is you can earn up to $75.00, yeah, that's right, $75.00 for just referring up to 3 people. That should be easy right? Want more okay. They also give you access to thousands of online coupons. Sign up now and get a $10.00 sign-up bonus now.
You can read my full review of Ebates here: A Ebates Review.
If you are not using this app, you are missing out on a lot of savings. You can also do price comparison by either scanning or entering in the barcode to find the best place after your cash back. 9.5 out of 10
---
5. Clashot – iOS or Android – Earn money from taking photos with your phone. How this works is by taking a picture, then upload them easily using Clashot then selling them on Depositphotos. When they sell, you earn a percentage every time your photo sells. This is great for the person who takes a lot of quality photos. You have to set an account up, then upload a picture with a full description and complete a verification process. Then you are ready for someone to buy your pictures. Bad News…They want you to upload a picture of your passport, which I could never condone doing and google play has a lot of complaints about getting photos approved and payment. 2 out of 10
---
6. Google Opinion Rewards – To earn money with this app you answer short (and I mean short, like 20 seconds) survey questions which Google then in turns awards you Google Play credits. You fill out a brief questionnaire about yourself and then about once a week Google sends you a survey. They pay up to $1.00 in Google Play credits per survey. You by no means are going to get rich doing this, but I find a great way to grow my music collection. I get a song or two a week.  There are other things to buy at Google Play like paid Apps, movies, TV shows and more. 8 out of 10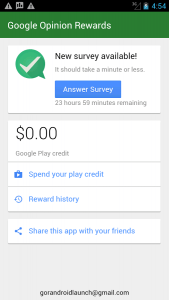 ---
7. Ibotta – iOS or Andriod – Ibotta works by before you go shopping you unlock cash back rebates. Then buy products at a store, restaurant or clothing store. Once that is done, verify your purchases by taking a photo of your receipt. Then you'll receive cash back in usually less than 24 hours. You are paid every three months by Venmo or by Paypal or gift cards. It can be a lot of steps, but I think it worth it, saving you money on the products you'll buy anyways.
Sign Up Now 8 out of 10
---
8. Snap By Groupon – Browse there offers before you go shopping. Then buy products promoted at any store. Take picture of a receipt and submit it. Get Paid. They pay by check only and must have $20.00 in the account. They seem like they don't renew their rebates often enough as you buy a product, then two weeks later you want to purchase the same product, you can't because it wasn't renewed. They offer too are things you normally don't buy. 5 out of 10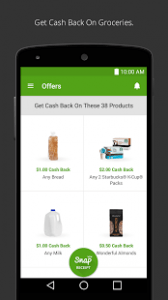 ---
9. IPoll – iOS or Android – This app is great for the person who is opinionated and loves doing surveys and getting paid to do it. They call surveys here missions. They also have missions that you visit a store, then answer questions relating to the visit. Also, watching videos. They generally want you to fill out information about yourself and then send an alert to you when a mission is available in your area. Once you have completed your mission, you will be credited to your account. Most missions take under 5 minutes, and pay is roughly $1.00. They have a $10.00 threshold payout. They payout via gift cards and airline credits. 6 out of 10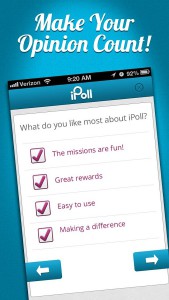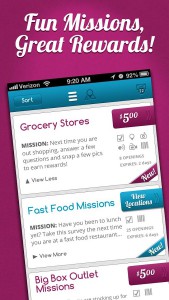 ---
10. ShopKick – iOS or Android – There are a couple of ways of earning Kicks (points), you can earn points by simply walking into the store and locating their beacon and open the app. The two communicate, and you are credited. The other ways are scanning products or purchasing merchandise. It can be rather slow for the points to accumulate. You can redeem for gift cards at major retailers and such. 7 out of 10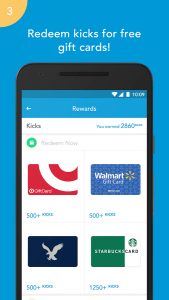 ---
Hope you enjoyed the 10 Apps that Pay. If you have any questions or comments, please do so below. I would love to hear them. Thanks.
Save
Save
Save
Save
Share This: