Is Viral Style A Scam?
Share This:






Viral Style Review
Name: ViralStyle
Website: https://viralstyle.com/
Price: Free to start
Owners: Tom Bell
Overall Rank: 7.5 out of 10
ViralStyle, Product Overview

What is Viral Style? Is Viral Style a scam? Can you make money with Viralstyle? In this review of ViralStyle, I hope to get to the bottom of what this company is about and learn if it's possible to make money from this Company.
May I also suggest you read my reviews on other T-shirt companies here,
What the heck is Viralstyle? Well, Viralstyle is a unique crowd-funding and print on demand custom apparel and merchandise business. It allows entrepreneurs, a place to easily create and design t-shirts, sweatshirts, mugs, phone cases, jewelry, hats and now sublimated socks too. Where I think the main focus is selling T-shirts. Who doesn't like a great T-shirt? Everybody has a bunch of them. They really have simplified the operation, by eliminating the struggle of the fulfillment of products, printing and keeping inventory.
It was created by Tom Bell, who was a Teespring user and wanted a better system for providing a place for entrepreneurs to create and design products with better support and opportunities. He saw a need and took action.
Viralstyle – A Crowd Funding E-Commerce Platform from ViralStyle on Vimeo.
It used to be you would pay money upfront for inventory, not knowing if your product would even sell. Then add in how many sizes to order and what colors, you can get over your head in a hurry. But Viralstyle helps eliminates those problems by being a print on demand type of business.
Once you sign up, you will be taken to ViralStyle Dashboard. Here they suggest you watch three videos to get yourself informed. Then after that, you can start creating a shirt to your liking, letting the creative side and your imagination take over.
7 BASIC STEPS
Find a niche.
Create designs and upload.
Create a Facebook fan page & Pixels.
Target and launch.
Assess and optimize ads.
Scale.
Relaunch and repeat.
Launching A Campaign (the basics)

Launching a campaign is a process of designing a product and then set the time frame for that item to sell in. They have over 20 different products to choose from. Shirts, tank tops, hoodies, and such. Viralstlye also has a menagerie of brand names of clothing to choose from. Take for example they have seven different brand names of t-shirts to choose from. After that, you choose the colors and text, and artwork. You can upload your own design. It's all very intuitive and simple to understand. When launching a campaign, you can also offer more than one product.
All the while, Viralstyle shows you the base cost of your current design, basically the more colors, the more money it cost. Base cost includes merchant fees, printing, fulfillment, and customer service. To better understand what base cost is, it's any amount over base cost is profit for you.
Important note about colors, if you have over ten colors within a product, it goes to Direct To Garment (DTG) printing prices, which basically means it costs more. So a simpler color scheme is cheaper. Also if you sell less than ten products, it's also DTG pricing. DTG is a more cost-efficient method to screen printing for low volume orders.
Then click Next, and this is where you determine the selling price. The prices are auto-filled but feel free to change them to meet your needs. Prices can go up to $50.00. Profit is also determined by the actual number of products sold.
Then name the campaign and fill in the description. Then fill in tags for placing them in stores and for Viralstyle to do targeting ads for your specific campaign.
After that, you choose the end date for your campaign. They typically run from 3 to 21 days. You can also have up to two upsells per campaign and even account for a discount to come in to play when purchased.
Viralstyle competitors are Represent and Teespring. They have their own rules and prices, which differ from Viralstyle's.
The Good & The Bad
The Good:
If your good at designing and graphics, what a great way to get involved in a business.
Just added a new product 9/23/2016 high-quality Sublimated Socks, which you can design and sell your own.
Great way to raise money for a fundraiser.
No upfront cost. Removes the risk.
Gives you a free online store.
No financial risk. It cost nothing to start a campaign.
Ships directly to buyers anywhere in the world.
Viralstyle handles all of the customer services!
Carry a vast amount of different brands of shirts: Spectra, Hanes, American Apparel, Next Level, Anvil, Gildan, and Canvas.
Can Upload your own designs. They accept PNG, JPEG, and EPS files.
Allows you to both prints on the front and back of shirts.
They have Pixel which is a tracking service that allows you to track who has visited your campaign page and to possibly market to other groups of people that seem interested in your product.
Viralstyle has a referral program. Here is my Viral Style Referal link, if you found this review helpful, please sign up to support my site.
If you have a fan base, it's a great way to earn money.
Can put designs on front and back of T-shirts.
They have a training program called ViralStyle University. They break it up into 3 courses: Audience, Design, and Advertising. Basic but will get you to steer in the right direction.
Very upfront about what you will make, nothing shading. It's all very clear.
Flat fee for selling shirts.
The Bad:
Some people complain about T-Shirt sizes run on the smaller size so get the next size to be safe. I think it depends on the brand.
You must sell at least ten shirts in order to get the cheaper price. If you don't sell at least ten shirts, you will pay the DTG price.
Basically a time limit. If you can't reach your goal for your campaign, your items won't ship, and the people that ordered won't be charged. So it's a wash, but you're free to try again.
Must use original designs unless you have the designer's written permission. No Copyrighted logos or slogans or artwork.
High Competition. If your slogan sells, expect it to be used by someone else or multiple people. Subjected to Being Copied.
Expect to spend money on advertising on Facebook. Can add up quickly.
No Marketing training provided at Viral Style. Bummer, as this very important for someone getting their feet wet for the first time and would be very beneficial.
Update 7/05/2016
Apparently, there has been spying on Viralstyle from other users using spy tools according to Client Support at ViralStyle. Either stealing their sales information or ideas or both. Viralstyle has taken measures to ensure this doesn't happen again. Some people are getting an unfair advantage.
Who is Viral Style For?
Anyone looking to make money, be their own boss, or has that entrepreneur spirit. It would also be beneficial to have some graphics and design skills.
T-shirt selling is an impulse buy, so you have to cater to that to sell your product. You have to make it funny or witty. Sexual innuendoes do really well with t-shirts sales. Catering to sports teams without using the team name but the name of the city is often used for the sports market. Then finding that specific phrase or phrases that you can scale over thirty teams and then maybe do that for a totally different sport. All you have to do is change the colors and the name. Imagination is the key to key to finding the right graphics and slogan.
In order to be able to sell in quantities, you must create a Facebook fan page or sell on Shopify. From there you can reach certain demographics to increase sales.
Tips For Using Viral Style
Read my post on Tips For Designing T-Shirts And Selling Them Online. Chock full of important tips.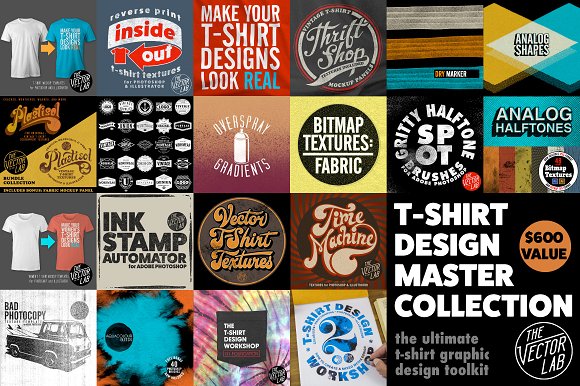 I highly highly recommend this!!! Something that took my t-shirt designing to the next level was purchasing graphics and fonts from Creative Market. Did I mention, the prices are cheap. Yeppers.  Well worth taking a look-see. So many bundles.
Alternatives To Viral Style
There are many websites and companies that are very similar to Viral Style, below I highlight a few of them.
Redbubble – Highest-ranked!
Moteefe – Second Highest-ranked, sell internationally as well both the US and EU.
Teespring
Zazzle
Cafe Press
Threadless
ViralStyle Tools & Training
They have their own training which seems pretty in-depth at their Viralstyle Academy.  They try to direct you past potholes and fast track you to earning money fast by teaching you the steps to be successful. It's broken up into three sections: Audience, Design, and Advertising. On top of this, they have Getting Started walkthrough videos to better help you get the general idea of it. Along with the videos they also an extensive How-To section for specifics, so they don't leave you hanging out there, wondering wtf. They provide I believe adequate training.
Viral Style Support
Viralstyle has a pretty comprehensive methods of support that include: Help Center, FAQ, Track Order, Returns, Phone Number, Live Chat, Order Status, and Contact Us. Which I applaud, easy to find, and plenty of ways to get a hold of someone at Viralstyle.
My Final Opinion of Viral Style
This goes back to my original question Is Viral Style A Scam? For a creative, marketing-driven entrepreneur, I think Viralstyle provides a great vehicle designed to get you generating money in a highly competitive market of basically T-shirt sales. They provide the proper price structure and support to get you fast-tracked to being profitable. I do believe there is a lot of hard work involved to continue to find that catchy phrase. But once you do and you start selling a lot of merchandise expect competition. As they will start using your slogan, so you need to be agile and willing to move on to the next campaign. I also believe you can make some decent money doing this, as there are quite a few people online showing what they make a week at Viralstyle.
So join up and Get Creating a Great T-Shirt!

If you would like to learn about an additional proven method of earning money online check out my Wealthy Affiliate review. This is my number #1 way of creating and generating an income.
ViralStyle at a Glance…
Name: ViralStyle
Website: www.viralstyles.com
Owners: Tom Bell
Price: Free to start
Overall Scam Rank: 7.5 out of 10
VERDICT: LEGIT
Save
Save
Save
Save
Save
Save
---
If you have any questions or comments, I would be more than happy to answer them. Thanks.
Save
Save
Save
Save
Save
Save
Save
Save
Save
Save
Save
Save
Save
Save
Save
Save
Share This: