Is THWGlobal A Scam?
Share This:






THWGlobal Review
Name: THWGlobal aka "Ten Hours Weekly Global"
Website: www.thwglobal.com
Price: Free to join.
Owners: unknown
Overall Rank: o out of 10 No longer a business
THWGlobal – Product Overview
What is THWGlobal? Is THWGlobal a scam? In my review of THWGlobal, I will help to get a grasp on whether or not this company is legit or a scam.  The THW stands for "Ten Hours Weekly Global" This is at the time of writing this, a very new company wanting to launch this very day of July 4, 2016.
They claim, that they don't want to be bigger than YouTube, but they claim they want to be the worlds largest advertising giants.
Well fee-fi-fo-fum, I can appreciate their lofty and ambitious goals. I would also gather from their comment that they are probably going to be having video content within their site.
You can check out my other page on THWGlobal for more information at What is THWGlobal? I will post updates there more than here.
Make Up To $25/hr?
The real kicker to this company claims is that you could be making UP TO $25.00 an hour by watching videos. See the video below.
Also, I will post updates under the Update header below or at my other page What is THWGlobal?
Other Ways Announced To Earn At THWGlobal
Taking Surveys
Searching or Simply Shopping online for everyday items.
Having referrals under you, people you get to join.
The ability to sell ads at THWGlobal through their Certified IV program.
Payment At THWGlobal
How is THWGlobal going to pay people? Well, they look like they are going the token to points to cash route.
Tokens are exchanged for points. 100 points equals $1.00 USD.
Points Can be directly converted to gift cards or PayPal or Payza or request a check.
***A word of caution about this company I know very little about this company and if you feel like joining, be mindful of the possibility of this being a scam. So take the required action to protect yourself. ***
I signed up and filled out a quick general survey, once I joined. The sign up was easy and did I mention it was free also. You do not have to enter any credit card information or any bank information either. As time goes by, I will update the information as I acquire it about THWGlobal. As they have yet to launch their site into full swing. I can recommend signing up because there is no credit card information or banking information required. Just your name and email address.
They do provide some information on which to go on…
Their claims:
Make up to $25.00 per hour watching videos. The videos are "

Better Than YouTube

Type Videos".

A maximum of $250 Weekly.

Also, huge management 6 figure opportunity (huh?) Where does one apply for this, it's never stated.
It's YouTube in reverse. They pay the viewers instead of paying the content creators.
No Fees or gimmicks (Yet, to be determined) I haven't seen any fees for the free IVs.
You receive $5.00 for every person who earns up to $25.00 an hour that you personally referred. (The wording on this is jinky.) Then they later state, "you will be rewarded for doing so by receiving $5 for every $25 they earn. I left after reading this feeling confused. I think the last statement is the one to go on.
Easy sign-up. No credit card or banking information.
Requirements To Join
Must be 18 years of age to join.
Watch up to 10 hours weekly of videos and supply comments.
Smartphone or computer with internet connection.
High School Diploma (they have no way of checking this, FYI.)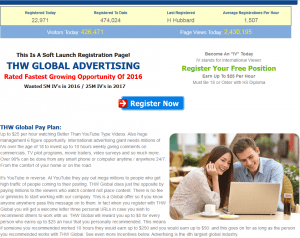 Key points to remember, their wording. For example. "earn up to $25 an hour". You have the potential to get $25 an hour but how likely is this. This is yet to determine, but like most places they oversell you the hype. Most people will not earn $25 an hour is my guess but it might be possible. I just want you to be aware of the, "earn up to" part.
Update
You can read more about it here. I will post updates here and on my other page What is THWGlobal? So, remember to check out both.
08/08/2016 Another update here, as THWGlobal has officially launched their beta versions of the video platform. They have video to watch online and it is up and running, but don't expect to get paid yet from watching them. They are only for viewing now.
7/20/2016 Just receive an email from THWGlobal that I thought I would share with you. In the letter, they state that they set up a new e-mail to answer questions. Apparently, the will respond to questions. They also tell in the email they are getting closer to getting started. They also post an address which I will share.
Questions can be sent to THWGlobalQuestions@gmail.com and here thwQandA@thwleadership.com. It also had a strange message,
"WE ARE HERE TO SERVE YOU!
you are the core of all our future business…
We are getting closer to getting started!"

THW Communications of Germany
21 Kurfuerstendamm
Berlin, Berlin 10719
Referral Program at THWGlobal
Think about the possibilities. The power of just 2 by 10 levels = 1024 referrals x's up to $10 per week could pay a lot of money weekly.
So, if your thinking about joining, you also need to think of using this platform to its maximum.
How?
By getting people to sign up below you. Through email, Facebook or any other social media. If this company is legit, you need to have people under you, even 1 active person is going to be helping you earn more money.
What you could possibly earn:
You spend 10 hours a week watching BetterThanYouTube videos you would earn up to $1,000 a month!
Referred Viewers (level 1)
You find 10 others to do the same and you would earn up to $2000 a month + your $1,000 a month!
Your Referred Viewers Sponsors (level 2)
You build a 10 level team of thousands or more to do the same you would earn up to $40 Monthly for each person within ten levels!0.00 a month.
The Good & The Bad
The Good:
Anyone in the world available to join, as long as your 18 years of age. They need people from every race and language.
The potential to maybe earn up to $25.00 an hour watching videos.
Possibly being paid up to $5.00 for each person you sponsor for each hour they spend watching (there it is again) BetterThanYouTube Type Videos. Up to $25.00.
A referral program. Their referral program looks very good. If you feel like joining, despite it being a new company and want to support my site, please click Join THWGlobal.
Video platform up and running for countries with enough IVs. Seems like a decent video platform.
Ability to track viewing history. With columns for Watched by, Description, Video Length, Time Watched, Ads Served, Ads Viewed, Comments Added.
Apparently, THWGlobal is going to be crediting people for the length of additional time as well as the video time and even back crediting you for the ads you have already watched. Nice gesture.

The Bad:
Need to be over the age of 18 to join.
Taking surveys was added to the list of ways to earn at THWGlobal. While, some people like survey taking, I personally dread it. I feel like I'm wasting my life when doing surveys. Just my opinion and I respect people that like doing surveys. It's just not for me.
Being contradictory first they claim you need only be 18 years of age, then later, down two paragraphs they say, "As long as they are over 21 with an HS Diploma…".  Well which is it?, I'm confused.
They drop random facts throughout their page, that doesn't seem cohesive.(Maybe, this is just badly written or maybe not)
I don't know what is "BetterThanYouTube" type videos are. Do you know? **UPDATE** These videos are no better than YouTube videos.
No Transparency, we know nothing of who owns this site, which can be a real red flag for possibly being a scam. Most legit companies have an about us page in which they share who they are and their purpose and agenda. Not here.
THWGloabal requires you to watch 10 hours of video for free initially.
THWGloabal then takes down the longer videos on their platform, so they edit their videos due to length, to make you watch more videos and more adds, which equates to more of your time. I can't find these longer videos anymore. They first stopped giving credit for watching the longer videos, now they just removed them from the site. People are naturally going to find an easier route to do anything. Instead of clicking on 2-minute video they'll find a 41-minute video to click on. But it's getting harder and harder to find longer videos.
Comments on video need to a minimum of 80 characters long. Why? A relevant comment can come in any size. Comments should be organic, not forced and having a minimum length is making people type gibberish or complete nonsense. Sorry, I can't write an 80 character comment on a 54-second video.
Must watch a video to completion in order to comment on video, that means the ads too.
Watching videos the front load and back load ads. They get you twice for one video.
Very annoying little blue monster that pops up when their site breaks down. Why is he annoying because he makes a chirping noise constantly. It is really horrible. Thankfully, this doesn't show up very often.
THWGlobal Tips
How To Find Longer Videos THWGlobal

Just thought I be helpful and give you some of the lengthier videos I've come across since most of the videos available are between 1 or 2 minutes long. Some Longer videos to get your initial 10 hours. Just copy and paste inside THWGlobal search. Hope this helps, if you know of any please comment below and I will post here. It seems THWGlobal is taking down the longer videos on their platform.
Vice Principals' Georgia King Reveals Season 2 Is Dark & What It's Like Working with Danny McBride – 7:07 minutes
10 Artworks With Hidden Messages – 8:59 minutes
Who Is The WORST Summer Signing of 2016?! | FFO – 9:49 minutes
Week 1 DFS WR Preview w/ Pat Mayo | FNTSY Sports Today – 9:21 minutes long
Week 1 DraftKings Preview w/ Pat Mayo | FNTSY Sports Today – 8:22 minutes long
Vanessa Williams – 6:28 minutes long
Canadian artist documents 9/11 tragedy through his art – 7:10 minutes
Jim Henson's Play Along Video – 7:16 minutes
Rosie Fortescue's Skincare Q&A With Ceryn And Ole Henriksen – 9:54 minutes
Make Me Up: Holiday Makeup And Beauty Must-Haves – 7:46 minutes
Pat Mayo
Easy Recipe For Delicious Dips – 8:02 minutes
How To Get Referrals At THWGlobal?
I have a few suggestions to get referrals under you to increase your earning potential at THWGlobal, as I have been asked a couple of times about this. When you sign up for THWGlobal, if you need to join you can Join THWGlobal Here, they give you three referral websites which you can promote, through email, website, videos, or word of mouth. This is a great way to increase the possible way to earn more income and should be taken advantage of.
Create a video on YouTube – promoting, reviewing, this company. A great free screen capture program is Screencast o matic to create your video.
Create a website – promoting, reviewing THWGlobal. You can get two free websites here. My number #1 recommend program for making money online deals with creating and building a website and making money with websites. This is the best place to learn affiliate marketing online. It's my number #1 for a good reason.
I don't recommend that you recommend this to family and friends since THWGlobal is unproven at making anyone money as of right now. But maybe if you explain all of the uncertainty of this new company, then let them make the decision on their own.
Problems Viewing Videos At THWGlobal?

I am getting a lot of question about people not able to view videos at THWGlobal and what they should do about it. I'll try to help here.
First, sign up to THWGlobal.
Second, If you have Google Chrome browser use that to access, if not download Chrome then proceed to http://www.thwglobal.com/VideoCenter/RecentlyAdded This is where the video are available to watch.
Third, it is possible that region of the world doesn't have enough IV and when your region has enough IV you will be able to view videos. I will post from FAQ on THWGlobal below.
Fourth, You don't have at least 10 people registered under you. This is free, btw.
Fifth, The video is powered by flash and you might get a pop up asking you to allow this. If you want to allow this click Yes and remember. Also, your flash player might be in need of an update.
Q: When will we be able to begin viewing content and ads?
A: Advertising will begin when there is a minimum of 50,000 IVs in a given geographic territory.
You need ten hours of initial viewing of videos to be qualified to be paid, later when THWGlobal is fully running on all legs. So, your initial ten hours is free, you won't be paid for this initial 10 hours, it's on the house.
Find the longer videos to watch and do something else while it is running in the background. But also comment occasionally and rating videos and clicking on advertisers.
They now have sharing capabilities for sharing their videos.  Either through email, Facebook or Twitter. So, when your shared video is watched you earn credit for it.
Once, the site is up and running, All IVs must watch a minimum of 5 hours videos or activity. This is waived for the Certified IVs, who have paid to be certified.
Also, If you are getting an error message when you try to watch videos that is because your country is not turned on yet. However, you can still review all the offers in your back office and around the videos for your 10-hour initiation.
THWGlobal Email address for additional help – THWGlobalQuestions@gmail.com or thwQandA@thwleadership.com
THE DIFFERENCE BETWEEN "FREE IV" and "CERTIFIED IV"
THWGlobal has two IVs. One is the Free IV and the other is Certified IV.
Free IV is of course free. You are required to initial watch 10 hours of videos for no compensation, once the program is up and running required to watch a minimum of 5 hours of activity in order to qualify for commission on people below you.
Certified IV cost $495.00 plus $39.95 a month to join. This is currently their reduced price, the regular price is $995.00 plus $39.95 a month. What do you get? Online Sales Training, continuing sales motivational and technical training and education. Also, you will have the ability to promote and sell advertising on the THWGlobal Video platform. A ton of money to hand over for an uncertain company that is just starting out. No required hours of activity to be paid.
FREE IV CUSTOMER:
FREE IVs can earn a maximum of up to 1,000 reward dollars a month for personal effort and a maximum of up to 10,000 reward dollars a month for 10 Level Team building effort. Including all POWER LEG and Dual Team BONUSES!
FREE IVs need a minimum of 5 hours of surfing weekly to be commission qualified. Failure to have 5 personal hours of viewing and/or reviewing back office offers forfeits all commissions for that week.
CERTIFIED IV CUSTOMER:
Paid Certified IVs have no maximum reward dollars for personal or management effort.
Paid Certified IVs may sell ads, certification courses and participate in Partnerships.
Paid Certified IVs initiation and all minimum video/surfing/reviewing of offers to qualify is 100% waived.
Paid Certified IVs may participate in ad commissions, coded and partnership bonuses.
HOW TO BECOME A CERTIFIED IV CUSTOMER:
Login To Your Back Office and Click On Income Opportunity.
Next Click On Certified IV Opportunities.
It Will Open Up To An Overview – Read It.
Then Click On – Get Certified Now in Bottom Left Corner.
 THWGlobal Alternatives
Other survey sites pay you to watch videos but come nowhere close to paying what THWGlobal is claiming to pay for watching videos.
Some survey sites that I have reviewed are:
Who is THWGlobal for?
As of right now, THWGlobal is for adventurous, looking to take minor risks of joining a new and untested company that promises good wages online by simply watching videos and referring people to their site. I want to state again a word of caution here. Be careful of what information you share, as this company is unknown. With that being said, right now it's worth signing up, as they require no credit card information. It better to sign up early and then see (as long as no real personal information is required) if it is legit and start getting people under you on their referral program. I got one question from someone on signing up at THW Global, that I would like to address when they ask for the "THW Global Website Name" all they are asking is for you to enter a username for their site. So just make up a username or one that you use a lot and enter it in that spot.
THWGlobal Tools & Training
No training at the time of writing this review.
THWGlobal Support
They have an FAQ page with 8 questions and answers as of the moment.
THWGlobal Price
Free to join. No money to be paid.
My Final Opinion of THWGlobal
Is THWGlobal a scam? To simply tell you I don't know…yet. I will come back after this program has been running awhile and reevaluate it here and post what I have concluded. That being said, THWGlobal does make some grand statements about making up to $25/hr. by watching videos. Whether or not you can make that kind of money is yet to be seen. Their referral program looks promising and well compensated and might be the winning ticket. It appears to be a like a survey site, in my eyes. But what little information I have to go on it's just a guess.
If you would like to check out THWGlobal despite its newness and unknown creditably, please do so by clicking Join THWGlobal. If in the future if they ask for your credit card number or other sensitive information, run for dem hills, RUN!!!!

THWGlobal at a Glance…
Name: THWGlobal aka Ten Hours Weekly Global
Website: www.thwglobal.com
Owners: unknown
Price: Free to join.
Overall Scam Rank: 0 out of 10
VERDICT: NOT LEGIT- Supposedly closed due to some violation of Google's Policies.
Before You Go…
While things are still up in the air at THWGlobal, I know a proven method of making money online, that is 100% legit. It is my number #1 Recommended way to make money online. So, it is very possible. You can check it out here My #1 Recommend. Read about it.
---
If you have any questions or comments, please feel free to leave a comment below. I would love the opportunity to hear from you.
Save
Save
Save
Save
Save
Save
Save
Save
Save
Save
Save
Save
Save
Save
Save
Save
Save
Save
Save
Save
Save
Save
Save
Save
Save
Save
Save
Save
Save
Save
Save
Save
Save
Save
Save
Save
Save
Save
Save
Save
Save
Save
Save
Save
Save
Save
Save
Save
Save
Save
Save
Save
Save
Save
Save
Save
Save
Save
Save
Save
Save
Save
Save
Save
Save
Save
Save
Save
Save
Save
Save
Save
Save
Save
Save
Save
Save
Save
Save
Save
Save
Save
Save
Save
Save
Save
Save
Save
Save
Save
Save
Save
Save
Save
Save
Save
Save
Save
Save
Save
Share This: