Is Wealthy Affiliate For Beginners?
Share This: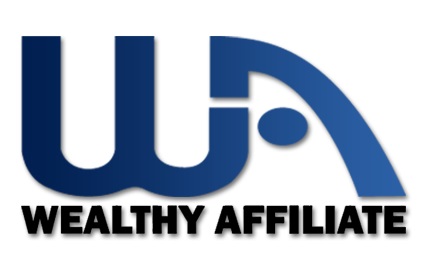 Beginners, Rookies, Newbies,

Greenhorns?
People that happen to stumble upon Wealthy Affiliate often ask…
Is Wealthy Affiliate for beginners? 
Let me answer that with a resounding booming reverberating …
YES. Yes, it is!
Do you need previous experience in affiliate marketing?
No, not at all. It would help but is not necessary at all.
As I can say this from personal experience. I knew nothing about effective affiliate marketing, creating a proper website, drawing traffic through SEO, using Google Adwords, and much more. I am no expert by any means, and I continue to learn every day.
But…I learned all this here at Wealthy Affiliate. I was as green as they come, but with effort and time, I launched into the unknown world of affiliate marketing. Full steam ahead baby!
I was for sure intimidated by the technical aspects of it all and the amount of writing involved. I bet if we could go back in time, I had the look of fear and caution in my eyes. It was kind of scary, everything little thing I did I thought I would wreck my website or the daunting amount of knowledge required to know. I am so glad I took the plunge now.
If it's not a little bit scary it usually not worth doing.
Hindsight is always right, but at the time fear of being taken advantage of and the amount of information to digest was prevalent. If you want to read about my concerns about joining Wealthy Affiliate you can read about them here, maybe you can relate and help dispel some of your fears. That is basically why I wrote it. Concerns & Fears of Joining Wealthy Affiliate.

Community
It is not only for beginners, but Wealthy Affiliate is thoughtfully designed and structured for beginners to flourish. We all know beginners in any field have a thousand questions, and affiliate marketing is no different. Maybe affiliate marketing has more questions than most fields, who knows.
But I know from experience, it can be overwhelming at first, from the sheer volume of information.
The best reason why Wealthy Affiliate is for beginners is the community here. I write about this all the time, the community at Wealthy Affiliate is second to none. It helps me get over fears of joining, helped me with countless questions, and more importantly with motivation and inspiration.
Everyone helps everyone. The structure of the ranking system at Wealthy Affiliate is in place to promote the most active and helpful members. When you join, you get a rank Wealthy Affiliate. Your rank goes up with completing courses, helping people, engaging, making lessons for other members, commenting on other members' profile pages, etc. Helping people is rewarding in itself, but WA rewards you by a higher rank. Thus the underlining of this system is helping people. Brilliant! Just Brilliant!
From the owners down to the newest referral. Friendly and helpful people too, not sarcastic know-it-alls that have a way of putting you down for asking a question. I have never seen a negative reply to a question yet at Wealthy Affiliate EVER. Expect understanding and prompt answers. Being this community is immense someone is always around to answer a question. People don't forget that they too were once a beginner, they remember how overwhelming at first it can be at the start. But don't be scared by this, it will come to you and seem old hat in no time at all.
In fact, if you don't have a question, you're not doing something right. You must venture into uncharted waters to learn new things and procedures to expand and enhance your business as much as possible. Much like a world-class athlete that trains and eats healthy and takes supplements, they are optimizing their body, and you must optimize your website. With proper SEO tactics, in order for your site to pull in the most traffic and earnings. The thing is that nobody just knows this SEO stuff intuitively, it must be learned.
Everybody can ask questions via multiple ways and platforms and here is how.
Live Chat
Ask a question on your profile page.
Private Messaging (premium members only)
Or click the pen icon at the top right and click Ask A Question.
Type your question in the search bar at the top, more than likely someone else has already answered this same question.
Ask me via my profile page, I will answer you!
How To Be A Successful?
I'm going to let you in on a little secret of how to be successful in anything.
Do you want to be a Badass in your field? Want to know how?
Hang out with other Badass people in your field.
Finding people that are successful and hang out with them, communicate with them. That's how! That is also an underlying benefit of being a member of Wealthy Affiliate. The ability to share ideas, concepts, training, and mindset. Surround yourself with success. Let it seep into you. Work, sleep, and build your success.
The Best Training For Beginners
The training…I'm sorry, you will not find a better system out there for affiliate marketing. I know, I looked. This is the meat of the meat and potatoes. The backbone if you will.
Wealthy Affiliate should be thought of as an online school. It's not static or un-moving, it dynamic. Ever-changing and improving. The great part about this is instead of earning a letter grade, and you make money! You make money by implementing what you learn into your business with the proven lesson learned.
They all fall flat compared to WA training, period. I tell you what, and much thought went into the design of this whole system. It was not just thrown together on a whim. Tweaked and alter to what is now, a true leader in the world of training for affiliate marketing.
Oh, and by the way, they are not resting on their laurels. Improvements are always happening, site-wise and with the training. New training is constantly being added and updated daily. So no old material that is out of date.
The  Training Courses Rock!
Courses are designed, again thoughtfully designed I might add, to get you progressing steadily and working at your own pace. It teaches you step-by-step how to build a successful online business. It essentially holds your hand to cross the street of learning affiliate marketing, like a boy scout helping out an old lady across the street.
There are essentially two Courses at Wealthy Affiliate. These are the main guns. Get Started Here is if you know what niche you want to create a website for. Affiliate Bootcamp is for if you don't know what niche you want to create a site for. Simple enough, and don't worry picking a niche is covered in the training, as it is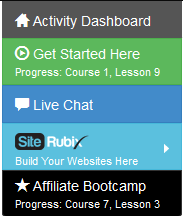 Get Started Here (Also called Getting Started)- This is the Green Box to the right once you are inside.
Affiliate Bootcamp – This is the Black Box as shown to the right.
What is other training available ate Wealthy Affiliate?
That is an excellent question, and I am glad you asked. Not only is there the Main Courses but there is also Live Video Classes every Friday. If you can't make it there, don't worry, it is all recorded and available to view after it is done the recording. These are very good and should be watched.
Also, members also can create training and post on Wealthy Affiliate for other members to learn from. This goes back to the above topic of Community, helping other members learn and succeed. There are numerous of these tutorials also. You will not run out of information to learn. Just trust me you won't run out of topics to learn.
Two Courses
Video Training
Unlimited Support
Personal 1 On 1 Coaching
Community Forum
Step-by-Step Instructions
Support
Being a novice at WA, you will get the required support to be successful. From multiple sources, the community or the owners. Some systems, I will not name them here, have what appears to be supportive but are actually just auto-responders. That actually never really answer the question fully or even rightly. Often getting it wrong.
Don't worry none of the crap is here. Real people are answering real problems.
To Wrap This Up
Is Wealthy Affiliate for beginners? Yes, 100% yes. But it is also for experienced affiliate marketers as well. That's the beauty of it, and it doesn't exclude because the platform is all-encompassing. If one part of this program were lacking, it would exclude people. But it doesn't.
If also need additional information on Wealthy Affiliate, read my in-depth post here, Wealthy Affiliate Review.
So, if you want to start learning to create a successful business online…DO NOT LET BEING A BEGINNER STOP YOU.
Click the button below to get started now!

---
If you have any questions at all or any comments, I would love the opportunity to answer them below. Thanks!
Save
Save
Save
Share This: