What Is RedBubble? Can You Make Money With RedBubble?
Share This:






Redbubble Review
Name: Redbubble
Website: http://www.redbubble.com
Price: Free To Join
Owners: Martin Hosking, Peter Styles, and Paul Vanzella
Overall Rank: 7.6 out of 10
Redbubble – Product Overview
This post contains affiliate links, and I will be compensated if you make a purchase after clicking on my links.
What is Redbubble? Are you artistic? Do you like designing and need to make some money? Why not open your very own shop and sell your artwork, letting Redbubble handle all of the messy stuff like printing and shipping and handling.

Redbubble is an online store where people can upload their artwork, also called a print on demand business. Once artists upload their work, Redbubble takes that artwork and then puts it on products. The sheer amount of products available to have your artwork displayed on is staggering. Products range from the ubiquitous t-shirt to clocks, yeah clocks…and everything in between. Almost anything you want. Redbubble produces it, packages it, and then ships it for you to the person who bought the product. Then when your product sells you make a percentage of that sell.
Check out a few of their items here:
RedBubble is a down-under company that was founded in 2006. It is also a publicly-traded company and is listed on the Australian Stock Exchange (RBLAX).
How To Get Started Using Redbubble
Open a Redbubble Shop.
Upload your artwork.
Market your product.
Get Paid.
Using the platform at Redbubble is pretty intuitive as far as adding and adjusting your artwork to whatever product. This is a real selling point as some other companies have you pulling your hair out within minutes of using their platform.
Not the case here. This is really relevant and uber important because of the almost overwhelming amount of product on which your artwork can be purchased on. Sometimes you have to alter your artwork or settings to fit the artwork on the product properly. This is why a quality platform from which you should be working is paramount. A lot of thought and planning, as a user, I can tell that a tremendous amount of work went into designing their platform.
Products
Mind Blown! The options are mind-blowing The list of available products of course is refreshing: t-shirts, hoodies, sweatshirts, tank tops, posters, dresses, leggings, scarfs, mini skirts, phone cases, laptop skins, stickers, wall art, pillows, mugs, clocks, stationery, calendars, tote bags, and even gift certificates. Now each item listed also has multiple variations as well, the combinations are outrageous.
Pricing

With all products, Redbubble gives a base cost, but the artist is free to change the markup in various methods. The default markup set by RB is 20%. You can raise this as you see fit.
Tags
You're allowed to use up to 50 keywords per artwork. Take advantage of this by being thorough and precise at describing your art. This allows customers to find you, so take the time to fill this out as accurately as you can.
Groups, Challenges & Forums
Multiple ways in which to join and participate in the community.
How To Join
Joining just takes a few minutes and you're off to the races. Click here to Join Redbubble now.
The Good & The Bad
The Good:
Regularly run promo codes, this drives traffic and sales which in turn helps sellers. I like seeing this, some other companies never run any kind of promotional offer.
Amazing amount of products! A wide variety of products in which to design and potentially sell. How many? Try over 60 products.
Completely free to join. Click here to join now, Join Redbubble.
Flexible pricing structures allow the seller to adjust prices when needed.
Definitely has that artist feel to it. It's seems laid back, fun, welcoming.
Redbubble has a forum where you can receive support from other artists as well as critiques.
Featured Artists of the day, a great way to promote artists and increase exposure.
Customer service is pretty outstanding.
Uploading speeds for artwork is fast.
Quality products.
Redbubble provides a widget to easily share on the various social media platforms out there. This may prove helpful in providing traffic and eyes on products.
Adding and tweaking your artwork on their platform to match the product is simple and easy to use. I found it a lot easier than most of their competitors.
A good reputation.
The freedom to markup beyond RB 20% markup, giving you more control over price and profits.
You are able to use Google Analytics in conjunction with RB to effectively track traffic.
The ability to apply tags to your art, to help people find
Redbubble has a blog, with a plethora of useful information for the newbie and expert. Found here, Redbubble Blog.
BubbleMail – an email program that allows you to communicate with others that occupy Redbubble.
A comprehensive Help Center, to answer most questions.
Payments are paid automatically, with no minimums. Either through PayPal or direct deposit into a bank account.
The Bad:
Prices on some products due seem to be a little high.
It's probably not the best way as an artist to make money as you will only receive a percentage of the sales.
It's up to you to market your work as well, creating Facebook pages, or your own website.
Payments are made once a month on the 15th.
Redbubble Tips
Creative Market is one of my top tips for t-shirt designers, for both newbies and seasoned vets. They have many graphics that you could potentially use for your t-shirt designs for a very cheap price. I highly recommend taking a look at them.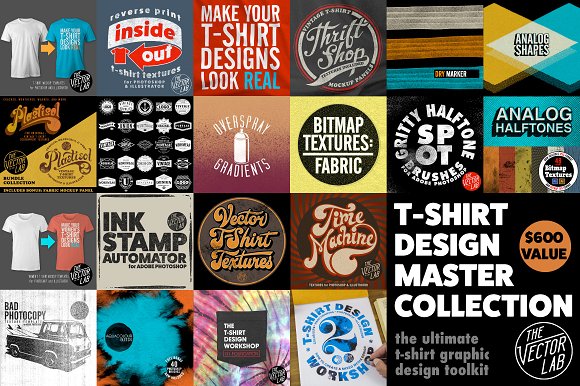 Check out my post on Tips For Designing T-Shirts and Selling Them Online for great tips and ideas.
Upload the highest quality to get the highest quality product. If you have low-resolution artwork it will show up on the product.
Proudly display your artwork. This would include wearing your designed t-shirts or phone cases. This allows you to display your artwork and people might ask you about it, then you can direct them to your Redbubble page. Free advertising!
You are allowed 50 keywords per artwork. Use the full 50 or at least try. This will greatly help people using the search button to potentially find your artwork. Be accurate as well, try to nail down everything in the art, as well as the style of the art as well. For example, black cat, green eyes, cat, black, kitty, kitty cat, etc.
Set up your profile with a picture and cover image that is relevant to you. As well as personal information, try to make it interesting and honest.
Redbubble Alternatives
There are quite a few companies that are very similar to Redbubble. Please feel free to check out them out.

Teespring
Zazzle
Cafe Press
Threadless
My reviews of the various companies if you would like to read more about their benefits,
Who is Redbubble for?
Someone looking to make some money selling their artwork. It's a nice start to getting you to shift your creating art to you marketing your own art, all the while making money from it. Redbubble provides a decent platform in order to accomplish this.
Redbubble Tools & Training
One really needs to go through the Selling training located within the help section under Selling. Just to familiarize and learn, especially if you a rookie at selling.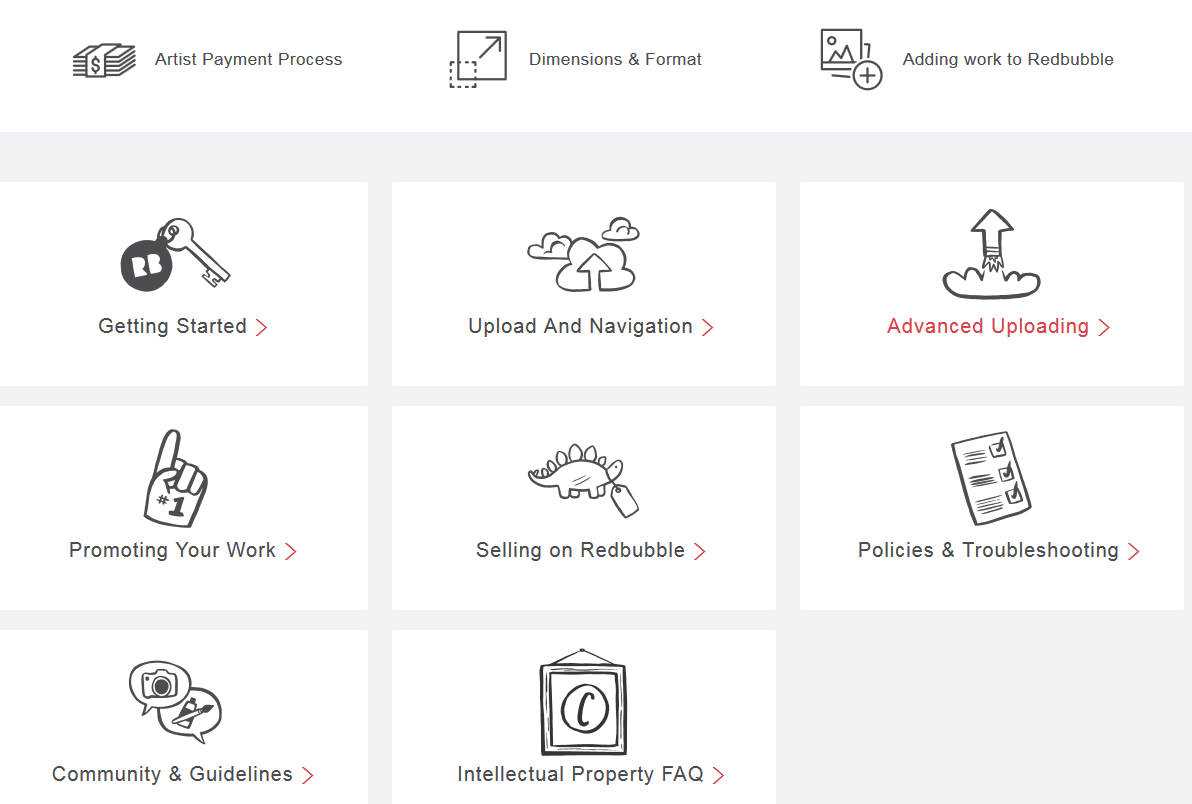 Redbubble Support
Decent support.
My Final Opinion of Redbubble
I absolutely love the number of products they have which in which your artwork may be placed on. Redbubble has a variety of products, in spades, especially compared to other Print On Demand companies. Try over 60 products. They offer flexible price setting allowing to get what you think your art is worth to you. Their platform is simple to use as well. With the quality of products to boot, this would be a hard platform on which to pass up selling on.
It's no wonder why Redbubble is a popular place for artists.

Redbubble at a Glance…
Name: Redbubble
Website: http://www.redbubble.com
Owners: Martin Hosking, Peter Styles, and Paul Vanzella
Price: Free to join.
Overall Scam Rank: 7.6 out of 10
VERDICT: LEGIT
Hold On, Before You Go…
If you are looking for another 100% legit way to make money, by owning your own online business and building it from scratch. This method provides the best training online along with the most helpful and friendly community online also. With multiple avenues for support to get you building your online business. I highly recommend you read my #1 Recommended Program and sign up to get started today. This can change your life.
---
If you have any comments or questions, feel completely free to leave them below.
When you buy something from this website, I may receive an affiliate commission.
These are my opinions and are not representative of the companies that create these products.
My reviews are based on my personal own experience and research.
I never recommend poor quality products or create false reviews to make sales.
It is my intention to explain products so you can make an informed decision on which ones suit your needs best.
Save
Save
Share This: