What Is Simple Sites Big Profits?
Share This:





Simple Sites Big Profits Review
Name: Simple Sites Big Profits
Website: http://simplesitesbigprofits.com/
Price:  $297 or 3 payments of $127
Owners: Marcus Campbell
Overall Rank: 5.5 out of 10
Simple Sites Big Profits Overview
What Is Simple Sites Big Profits? Well to sum it up, in a nutshell, Simple Sites Big Profits (SSBP) is an affiliate marketing program designed to teach people how to make money online by creating small websites, by small I mean 1 to 5 page websites, that generate money. This all from the comfort of your own home. This is interesting to me, as you are building smaller sites that are less time consuming and relatively easier to make than a more significant website. So, my ears perked when I heard the name of this company, as I have personally thought of trying my hand at a smaller site.
What Marcus is promoting is a course that covers creating websites that are essentially a mini niche website by using affiliate marketing techniques to get traffic and sales. An important factor in choosing a niche is that it has low competition (few sites dealing with this) and a high volume of people actually searching for this. You build a website around this concept which aims to sell products that are within this specific niche market.
Ideally, you then create multiple websites in different niches to pull in multiple streams of income. Diversify, just like all financial advisor suggest we do with money in the stock market. As he states some pull in a couple of bucks a day to some of the sites pulling in hundreds of dollars a day.
This system is appealing to people including me because it seems like less work than the standard method of affiliate marketing where it takes a year or two to become established by search engines as an authority website. Being an authority allows for higher rankings in search engines and is well sought after. To establish oneself as an authority one must post 2 to 3 post per week and apply proper affiliate marketing techniques. Now, it doesn't have to take that long if there is no competition to be ranked high well in searches and money can be made following Marcus methods.
To better understand SSBP we need to look at it creator and owner, Marcus Campbell. Marcus lives in Northern California and claims to be making money online since the year 2000. He titles himself as an Internet Marketing Specialist. He readily admits to being a magician. Creep-O-Meter to 99, at least it not a clown, that's a full 100 on the ol' Creep-O-Meter. The picture says it all, well maybe.
The obvious question now is he concealing something up his sleeves or are all his cards on the table with SSBP. More importantly, does his program work?
How Much Does This Cost?
Boy, you cut right to the chase, don't you? Well, it is a very good question, and everybody immediately wants to know.
You can pay a one-time payment of $297 or 3 payments of $127
What It Covers
There are a total of 10 categories in which the system can be broken into. With each area of focus comes with an accompany videos that details step by step lesson to help you progress through the lesson. I really like the use of video as a teaching platform as this removes a lot of problems.
They are:
Start Here
Niche Finding
Traffic Source
Setting Up Shop
Creating Content
Getting Traffic
Testing & Traffic
Getting Involved
Ramp Up Profits
Tools Supplied
When you join Simple Sites Big Profits, you are given several tools that are designed to get you hopefully progressing to financial freedom.
Marcus's Niche Files
Market Flipper Training
Domains & Hosting
Keyword Spy
Niche Finding Tools
Google Keyword Planner
The Good & The Bad
The Good:
I love the concept of simple websites that bring in money.
I am a big fan of step-by-step training. Holds your hand down the road of affiliate marketing.
Marcus put in the work and learn how to do this himself. Props!
Marcus also makes it very relate-able, and you can tell he went through this himself.
Marcus gets you excited about ideas and highly motivational but also kind of of long.
Mentorship is promoted here and is something I profoundly believe in.
The Bad:
Long lengthy marketing pages.
Cheesy video of him showing his house, his car. Dude…really. I run when I see a system that markets their system this way. Look at these bright shiny things!
Creating a simple website can make you money, creating a quality website and being trusted authority by search engines is the more accepted way for making money online.
Reports of auto-responders for questions.
People are complaining of asking for help with no help given.
Old outdated look and appeal, flashback to the 90's or 00's.
Scattered places, you must go to different websites to learn different materials. Leaves one feeling confused.
Outdated software program seems slow and buggy.
As with any program, quite a mixed bag of reviews some bad, some good.
Filmed with a toaster. Yeah, the video is deplorable and pixelated, Flashback to the year 2000. (Ya might want to upgrade that!)
Doesn't feel the need to update old videos that are hard to see and clearly see what is on the screen. Has he gotten lazy and what else has he gotten lazy about?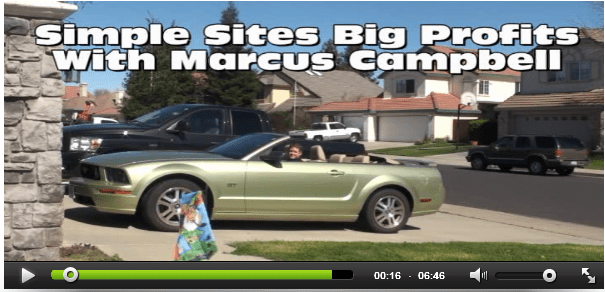 Simple Sites Big Profits Tips
To follow Marcus rule, If you want to really do internet marketing? And you want to make this work? And you are not going to give up. Your chances of success are 100% This doesn't mean your first site makes any month in the first few months, but over time by continuing to use proper affiliate marketing techniques, you will OVER TIME make money. This is so true, it takes time and patience and let's not forget work. Affiliate marketing is a marathon, not a sprint. Something to just keep in mind.
Simple Sites Big Profits Alternatives
A better and more comprehensive platform is straight up Wealthy Affiliate. I have been a member your over a year at the time of writing this, and this is my go-to for learning how to use and learn affiliate marketing properly. Wealthy Affiliate has more options, domain hosting, a thriving helpful community, and updated information. SSBP is just less appealing with fewer features. These things make the world of difference when actively using affiliate marketing.
If this was a celebrity death match, Kyle VS Marcus. Kyle tromps Marcus hands down. More thought and care is put into Wealthy Affiliate system. The owners care and know what works and built a system that easily helps complete newbies and experienced affiliate marketers earn and learn. Marcus should take a binder of notes.
Wealthy Affiliate eats Simple Sites Big Profits for breakfast! Enough said.
Who is this for?
Possibly anyone looking to get their feet in the pool of affiliate marketing and potentially make money from their home.
Simple Sites Big Profits Tools & Training
Training and tools are both provided to help you earn.
How Is Their Support?
SSBP has email support, live chat, and along with an 800 number in order to get a hold of a person. Be warned lots of complaints about SSBP not getting back to people.
Simple Sites Big Profits Price
$297 for a one-time payment or break it up into three payments of $127.
My Final Opinion of SSBP
I believe Marcus system SSBP could and does work but…I can't really recommend it knowing of a better system that is more comprehensive and up-to-date in its appearance and more importantly it is training. Couple this with the mixed review online of his system of spotty support and failure to deliver paid for services, it just seems like a generic, outdated system that could work. I would pass on this venture.
If you want a system that works and is completely legit. I recommend you check out my review of Wealthy Affiliate. It decades ahead of Simple Sites Big Profits.
Simple Sites Big Profits at a Glance…
Name: Simple Sites Big Profits
Website: http://simplesitesbigprofits.com/
Owners: Marcus Campbell
Price: $297 or 3 payments of $127
Overall Scam Rank:5.5 out of 10
VERDICT: LEGIT
Hold On, Before You Go…
If you are looking for a 100% legit way to make money, by owning your own online business. It provides the best training online along with the most helpful and friendly community online, with all the support to get you building your online business. I recommend you read my #1 Recommended Program and sign up to get started today.
---
Save
Save
Save
Save
Save
Save
Save
Share This: