What Is Dealspotr About?
Share This:






Dealspotr Review
Name: Dealspotr
Website: https://dealspotr.com/
Price: Free to join.
Owners: ZipfWorks
Overall Rank: 8.2 out of 10
Dealspotr – Product Overview
I have just recently found out about Dealspotr, and after doing some research, I realized this is an excellent site in which to save money with as well as MAKE MONEY with Dealspotr. So I wish to share this on my website in the hopes of others find this just as agreeable as I do.
You're probably wondering what is Dealspotr about? I hope to help explain this great site that provides nothing but positive benefits for visitors and Influencers.
Since learning about Dealspotr, I also have another post on becoming an Influencer (This pays better and a great opportunity), you can read it here, How To Become An Influencer At Dealspotr.
This Blows Away Survey Sites & PTC Sites
At first, I didn't know what Dealspotr was, I thought it was a survey site or something.
I was so glad, it wasn't another survey site…If you had the misfortune of spending hours filling out surveys for a few cents, know what I mean.
Not only is Dealspotr not a survey site, but get this, it's a lot easier to earn money than most soul stealing survey taking sites. So if you like survey sites, you'll love Dealspotr because you'll earn gift cards a lot faster at the same time as saving money.
Dealspotr is a social couponing site.
Wait… What? Yeah! It's a thing, Social Couponing!
At least that's the best way I can describe it. Or as Dealspotr calls themselves the "Wikipedia of deals" Hoo-ah!
Why not? Sure beats cutting coupons from the newspaper on the weekends. Plus they reward you for sharing deals which you find and post to Dealspotr's website, for all to see and save money.
Finally, a place for "couponers" to feel safe with their own social community. All kidding aside, the beauty of Dealspotr is more eyes and ears in which to find deals, this is the power of a large sharing community. As it is super easy to find sales and promo codes in which to save money.
Share. Save. Earn
Don't hoard them deals people. Share em!
We all know that feeling when you're just entered in your credit card number, and you see an empty Enter Promo Code box, and you go quickly scurry the internet searching Google for "Company's Name Promo Code" Then when you find a promo code sometimes the code works, and sometimes it's outdated. That won't happen here at Dealspotr. All codes and sales are often updated. That is what Dealspotr provides, use relevant information pertaining to deals. Often deals are validated by other users, thus making very likely the deals, sales, and promo codes work.
Dealspotr seems like a game changer, finding great deals online while also helping other people find great deals too.  You're also being rewarded too, for sharing and posting ways to save money.
Great Idea! Right? Any website that has an active and helpful community is doing something very right! You'll find websites that have a great community do a heck of a lot better than sites with no community. Communities provide shortcuts, explanations, helpfulness, and practicalities and shouldn't be overlooked as a real asset.
What Can You Find At Dealspotr?
Coupons
Sales
Deals
Discounts
Promo codes
other friendly helpful people willing to share information about saving money.
The Feed
The beautiful thing about Dealspotr is you have your own personal Feed, which you set up with brands and deals that you like or that you are interested in. It's a good idea to add the stores that you most frequent and patronizes. They have 11 different interests themes in which you can add to your feed. After you select the Interest, the site asks you to choose specific brands/stores that you love based on those categories.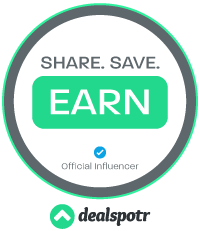 Electronics & Tech
Fashion
Restaurants & Eating Out
Fitness & Sports
Home
Grocery & Drugstore
Gifts & Gift Ideas
Beauty & Wellness
Travel
Babies & Kids
Services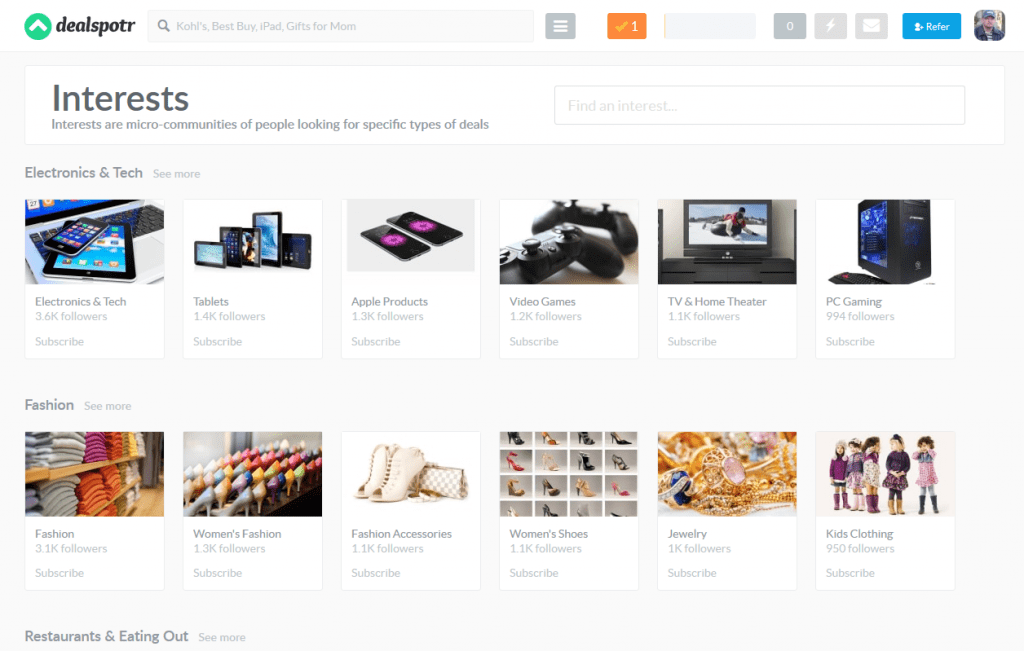 Like for me for an example, I love Onnit supplements and equipment, so I signed up for them and my wife just loves Kohl's, so I added Kohl's to my Feed also.
You can also always search for specific deals by just typing them into the search bar.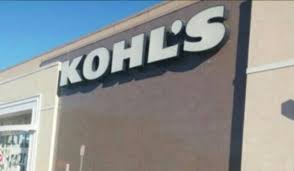 Making Money With The Art Of Couponing
Not only do you save a ton money using Dealspotr but you can also make money here. Yeppers!
How?
Simple. You can earn Dealspotr points and rewards for sharing and editing deals. By earning points, those points then can be redeemed for gift cards. Amazon Gift cards.
Posting deals.
Validating deals.
Spotting deals.
Finish your daily checklist.
Refer new members.
How Points Work At Dealspotr
10,000 points = $10.00
How To Get Started At Dealspotr
To get started simply click here to Join Dealspotr. Or use the promo code SABUSAN.
You'll be taken here. Did I mention, you will also receive 5,000 points just for signing up? That's a free $5.00 bill, just for signing up. Then you can earn additional points by completing the daily checklist. That changes daily and helps you get involved and earning them points.
You can cash out at 10,000 points for $10.00 in Amazon Gift cards. But you don't necessarily have to cash out when you reach 10,000 points, you can just keep building to a higher payout. For example, your next available payouts would be 20,000, 30,000, 40,000 and keep going. You might have to wait for 1 to 3 days for your points to be reviewed for your card to be emailed to you. Kinda long wait for a gift card.
The Good & The Bad
The Good:
Completely free to join.
Rewards you for sharing deals and coupons that you find. Gift Cards Baby!
$5.00 sign up bonus, you can sign up for Dealspotr here.
A great way to save time and frustration. A centralized, updated platform to find the current deal for specific brands.
Powerful, large, helpful community which blood-hounds the internet for deals. Try 30,000 strong membership.
Easy to network within Dealspotr.
Unique in that you don't have to purchase products to earn rewards, you simply share promo codes, deals, or refer people. Your getting paid for information.
Helping your fellow compulsive shoppers find better deals.
You can customize your feed. To allow only the deals and companies you want to be alerted to with current up-to-date discounts. Thereby saving you time not having to sift through information that you have zero interests in. Like for example a cheese nut log discount, when you are lactose intolerant.
I am sure people will significantly benefit from using this site. Saving money is always popular.
The best way I know of for searching for deals.
Deals are checked and edited by members, keeping old or not working codes off of the site.
Thorough reference checks on posting deals.
Ability to earn additional through karma points by spotting a "hot" deal or having and building a good reputation.
They have a very interesting Influencer membership for people that own blogs. You can read my post on How To Become A Influencer At Dealspotr for more information.If you own a blog Email me at dan@highlandermoney.com for more details with Dealspotr in the title, and I will get you invited with a special access code. Do this before joining. It's a good thing like double lifetime points and an enhanced referral benefits. They pay you $35.00 for writing a post about them too.
The Bad:
Would prefer to see more options concerning payment besides gift cards for the standard user. They do have Paypal payment options for Influencers though so if you want to be invited to the Influencer contact me through dan@highlandermoney.com. I will get you set up.
Not a household name, but should be.
Gift cards take anywhere from 1 to 3 days to be sent to you via email. This could be instant, instead of waiting.
Just an Amazon gift card, I love Amazon gift cards but maybe other people want more options than Amazon.
Lengthy procedure for posting deals, taking screenshots, finding a higher price where it is sold on Amazon or Google. Takes about 5 minutes.
An email is sent to your inbox whenever someone spots your deal. I must find a way to turn this feature off.
Dealspotr doesn't have great support. Only an address is provided and a Message us on Facebook link. Pretty poor if you have problems.
Buggy platform. Tried for three days just to complete a daily task. I had to just update my bio and picture. Which I did btw, but it wouldn't recognize it until three days later. Also, buggy when entering in Post A Deal, it will tell me I forgot to enter in something when I didn't. I just kept retrying, and eventually, it worked. Maybe some kind of throttling they do here or just perhaps bad programming.
DealSpotr Tips
If you find a good deal online, by all means, go share it at Dealspotr and earn some points.
Turn off being notified by Dealspotr, every time someone spots your deal. Email overload. This can be done in the Edit Settings under the Notifications tab. Be sure to remember to save once you have altered the notification.
*No longer available* A easy way to possibly earn points at Dealspotr is by doing the Spot Deals Now, where they give you 5 deals a day in which to spot. If the deal you spot become Hot, which means more people also think this deal is going to be useful to a lot of people and also spot the deal, you can earn +25 points. If your spotting good deals you earn even more daily spots too. So do this daily to help your point total. Be mindful you can lose spots as well, down to zero. I think after 30 days you get 5 of them back. 
Take advantage of Dealspotr personal Feed, by adding brands you buy, store you frequently shop at. This is a great way to be alerted to stuff you actually buy and will probably save good money. I add the products I use and love, then buy when discounted. In turn, it saves me money. Yeah!
Don't be afraid to post deals, and the first one is always the hardest. You will quickly become good at it.
Complete your daily checklist to help rack up points. This also helps builds your specific presence on Dealspotr and get you earning points.
Refer Friends or family to join Dealspotr. This is a great way to earn points, as you can make commissions off of each person you referred.
If you shop online and receive emails from a store in which you bought from, review the emails as many of them post promo codes or sales in which you can share on Dealspotr.
Social Media is one of the best places to find codes and discounts. Join the companies you like and watch for deals. Twitter is probably the most used to find deals. So follow your favorite stores to more easily find deals and promo codes.
Dealspotr Alternatives
Retailmenot
Slickdeals
Ben's Bargins
Who is Dealspotr for?
Frugal people would absolutely love Dealspotr, but not excluding anybody else either. Anybody that likes saving money or shopping online. Not only that but also by helping out the community by finding and posting deals yourself and possibly earning gift cards by just sharing your knowledge.
Dealspotr Tools & Training
They have a Help and FAQ page which covers the basics of using Dealspotr found at the bottom of any page. Along with that is a Blog section with many great ideas, tips and information.
Dealspotr Support
They don't have a very good support as only a physical address and a Message us on Facebook. Some people don't have Facebook.
1601 Cloverfield Blvd
Suite 1050N
Santa Monica, CA 90404
Dealspotr Price
Good, Golly Miss Molly, it's free!
My Final Opinion of Dealspotr
What is Dealspotr about? Well, it's about saving money. If you need a deal, this is the place to come for the most reliable deals anywhere. It's community-based, where people are posting ways to save money. The big bonus is being rewarded with points by just posting deals you found. Not a hard thing by no means. With only minor negatives about this company, I highly recommend Dealspotr. It is a better way to find deals and coupons.

Dealspotr at a Glance…
Name: Dealspotr
Website: https://dealspotr.com/
Owners: ZipfWorks
Price: Free to join.
Overall Scam Rank: 8.2 out of 10
VERDICT: LEGIT
Hold On, Wait A Minute, Before You Go…
If you are looking for a 100% legit way to make money, by owning your own online business. It provides the best training online along with the most helpful and friendly community online, with all the support to get you building your online business. I recommend you read my #1 Recommended Program and sign up to get started today.
---
If you have any questions or comments please feel free to write below. I will do my best to answer your questions. Thanks!
Save
Save
Save
Save
Save
Save
Save
Save
Save
Save
Save
Save
Save
Save
Save
Save
Save
Save
Save
Save
Save
Save
Save
Save
Save
Save
Save
Save
Save
Save
Save
Save
Save
Save
Save
Save
Save
Save
Share This: