Is My Business Venture A Scam?
Share This:





My Business Venture Review
Name: My Business Venture (sometimes shortened to MBV)
Website: http://www.mybusinessventure.com/
Price: PRICE
Owners: Thomas Stridiron CEO
Overall Rank: 8.8 out of 10
My Business Venture Overview
My Business Venture has an A+ rating with the Better Business Bureau and has been in business roughly 25 years. So, is My Business Venture a scam? The short answer, no, it is not a scam. My Business Venture is not an affiliate program. As sometimes MBV often gets compared to affiliate programs. MBV is technology service company that provides a multitude of services for either the Internet, Home-Based, or Mail Order business.
Since we have established that MBV is not a scam right off the bat let's take a closer look and see if it a good fit for you by detailing what services they provide as well as details pertaining to them.
Let's get right into this. What is MBV?
Basically, they assist entrepreneurs that are looking to start an online business by providing them all the necessary tools to do that. Offering convenience for a price, I find that price very acceptable for the services they provide. They describe themselves a nationwide technology service company and also I've seen them call themselves "Online Web Superstore Program".
So basically, they build a website for you and support that website in which you sell from a list of their products, which range over 10,000 products in which to choose from. It is a totally complete business you are purchasing.
MBV is not an affiliate program, My Business Venture is a graduated step up from affiliate programs. They fall into the middle of affiliate programs and a person buying a franchise. This is important to understand as they provide an affordable avenue for people with a healthy revenue to invest in a business but not enough money to buy a franchise. I think they have carved out a beautiful little niche area for themselves here, as I think numerous people fall within this range and MBV is there to provide a solution.
They provide a helping hand to people that want to start a home-based business, with the promise from them that your website will be the most advanced out there. So you're probably wondering what you get if you join up with MBV.
E-Commerce Enabled – the ability to accept credit card payments right away.
High-Speed Hosting
Strategic Marketing Campaigns
Brand Name Products – in which to promote on your website.
Automatic Live Product Feed
Social Media Programs
SSL Certificate – this is the https that shows a green lock and lets your customers know that your site is secure when checking out.
Professional Turn-Key Site – The ability to go live within just days.
MBV also provides over 10,000 products that could be potentially be sold on your own website. The products range the gambit from electronics to automotive and just about everything in between.
They set you up and make it easier for a novice. I love the amount of support that is given here as this can be overwhelming to a complete beginner. You can read more about MBV in another post I wrote here, What Is My Business Venture.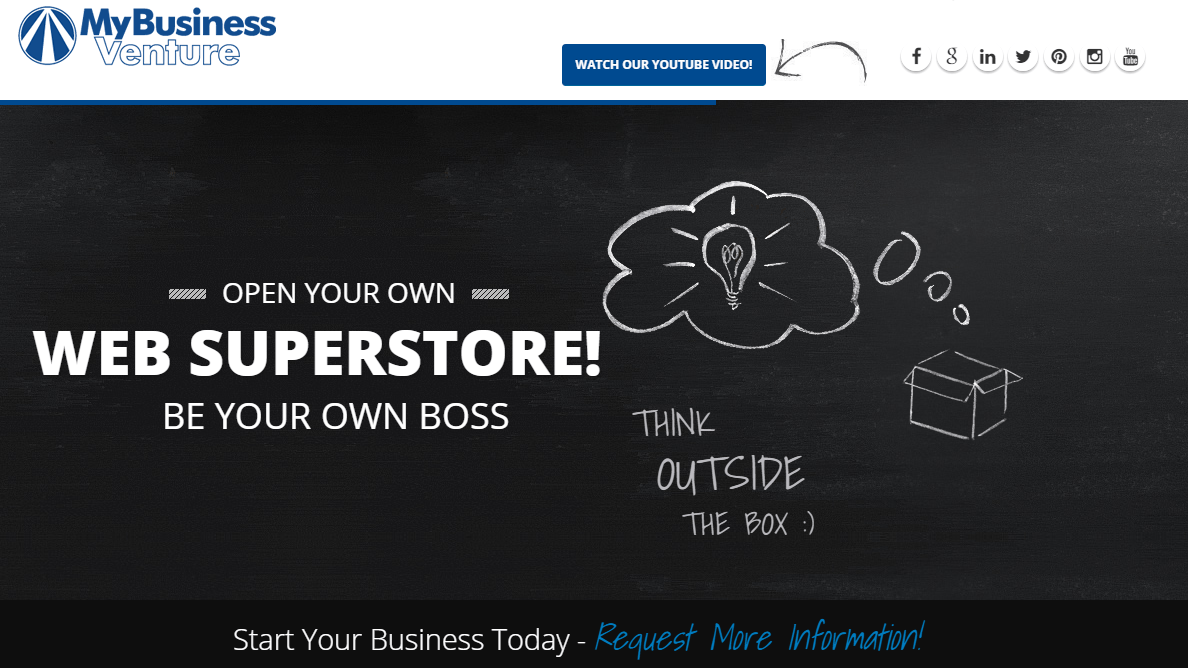 What Does MyBusinessVenture Provide?
Websites
Credit Card processing.
Secure payment gateways.
Marketing campaigns that are strategic in nature.
Custom logos
Social media programs to better manage social media.
Shopping carts.
What Types Of Product Do They Provide?
Name Brand Electronics
Bath and Body
Sports
Indoor and Outdoor
Automotive
Colognes
"As Seen On TV" items
And many more additional items.
How Much Does My Business Venture Cost?
Well, let's get right into the nuts and bolts of this, as they provide three plan in which to start from.
Standard – 2,795.00 startup
Professional – $2,795.00 one time payment.
Enterprise – $3,995.00 one time payment.
Initial setup fee is $2,795.00. If you do not have this money, you can put down $495.00 and pay $100.00 per month until you pay off the initial $2,795.00. I love that they give you the option of paying monthly for the setup fee.
Monthly fee of $99.00. Payment processing is bundled with this.
PCI Compliance fee ranges between $35.00 to $174.00 per year.
The Good & The Bad
The Good:
My Business Venture might actually turn you away. How is this a good thing? Well, through talking with you and your desires for a business they will determine if they are a good fit for you, if not, they will turn you away. This is how a respectful and honest company they are. Thus saving them grievances down the line as well.
Extensive inventory of products to choose from in which to sell on your site. Try over 10,000 products.
Flexible payment plan for startup fees.
Unlimited support.
A+ rating from BBB. Can't get any higher than this.
Numerous good reviews can be found online about MBV.
Provides you with everything you should need in running a business.
You can work on your business part-time, and still, keep your full-time job.
Products are naturally marked up, but you can adjust these prices to your liking.
On their website they give you several demo websites to look at, to help you determine if you like their designs as far as the website goes.
Their YouTube channel has 39 videos that feature reviews, guides, and overviews detailing their platform.
Profits from determined selling prices fall anywhere between 35% to 200%.
Unlimited one on one mentoring. I really enjoy tutoring and find it the best way of learning. Love, love, love this.
Online training and tutorials.
The support that is available any time of year. 24/7 – 365 days a year. Through online support, telephone support or through email support.
SSL certificate. Very important for having a commerce site. This is important as they are providing you with a commerce site and you need trust to have people buy from your site, this provides the trust.
Design a custom logo pertaining to your business.
No inventory needed.
The Bad:
Limited to US and Canada residents only.
Vague information on their own website. I don't like vagueness when trying to ascertain if the company is legit or not. But with an A+ from the BBB, I feel better about it, as well as the multitude of positive reviews I have read about them.
My Business Venture Tips
No tips are really needed as if you need help MBV is there to provide you the help. Through either of their support features. If you're paying for this service, advice should be present and plentiful. Don't be afraid to contact someone for help if needed.
Be sure to ask the overall cost before signing up and to run through all the features. Get a correct understanding of what you are paying as well as the services you are getting. Knowledge is power.
My Business Venture Alternatives
Wealthy Affiliate 
By far, a vastly cheaper and maybe a better for you is Wealthy Affiliate platform. You can read my review here, Wealthy Affiliate Legit Money Maker . It more affordable as well as more all-encompassing. This is the system I use as I have been a member for over a year and I don't have a bad word to say about them. They teach you step-by-step all the steps to creating and maintaining a website. This method is affiliate marketing.
The great thing is they have a free membership and a Premium membership. So, you can join up with the free membership, no credit card needed either. Just your name and email address. Once you join just add some personal information along with a picture, you're good to go to take a look around and explore. Be prepared people are really friendly and helpful. Ask questions in chat and look around. They have 100% transparency.
These includes:
How to create quality content.
Proper SEO tactics.
Classroom, step-by-step training, boot camp and video lessons.
Creating videos to drive traffic to your site.
Multiple layers of support. Owners help, community help, and search function. Yes, owner help, I have numerous times got help personally from the owner. His name is Kyle.
SSL Certification for websites.
Free websites.
Motivation – A very important feature and not to be overlooked. The community is the biggest motivator as they provide this to help you keep going and pushing yourself.
A community that is second to none. This is what pushed me over to going premium at Wealthy Affiliate.
My Business Venture
But just because something is cheaper doesn't mean it's a right fit for you. My Business Venture is a system that provides you with an all-encompassing service that frees up the time you need to spend learning how to do something as well as implementing what you learn. I definitely see where some people would just want to pay more money instead of having to learn all this information. It can be very overwhelming.
MBV is not affiliate marketing.
It might be appealing to you to just go with MBV instead of Wealthy Affiliate. As it would take less time to establish your online presence.
Who is My Business Venture for?
Entrepreneurs looking to create an online web presence and having a lot of the work done for you. Everything is streamlined to relieve a lot of the hassle of learning and implementing of running a web-based business. A real selling point for a lot of people.
My Business Venture Tools & Training
Have almost 40 videos on YouTube that highlight reviews of My Business Venture, guides and overviews. The guides are what interest me. Unfortunately, they play background music while viewing the video, which is highly distracting. You can just mute the sound. But kudos for posting some video that some people might find helpful. The more training and tools provided by the company the more I see that they care, as they are investing in their members.
My Business Venture Support
With the money you get top-notch support, this is a relief as many problems take a lot of knowledge and time. With dedicated support staff, problems are easily handled in an efficient time frame.  MBV has all the necessary support that comes with a paid service.
Support is an excellent way of judging a company's legitimacy, using that as an indication, MBV has a solid reputation and can be trusted.
My Final Opinion of My Business Venture
This system ranks as one of my highest ranked ways of earning money online. Providing you with everything you need to flourish and make your passions come true.
If you want a system that provides a complete system to get started building your own business this might be right up your alley. You can fill out the form on their website to have someone talk to you and discuss all the details. Keep in mind you're going to be paying a premium for these types of features but what you pay is in line with what you will receive.
I highly recommend you go to their website http://www.mybusinessventure.com/highlandermoney/ to receive their free ebook and to receive more information from them. I hope this helps you determine if MBV is right for you.
My Business Venture at a Glance…
Name: My Business Venture
Website: http://www.mybusinessventure.com/
Owners: CEO Thomas Stridiron
Price: PRICE
Overall Scam Rank: 8.8 out of 10
VERDICT: LEGIT
Hold On, Before You Go…
As mentioned above, if you are looking for a 100% legitimate way to make money, by owning your very own online business. As it provides the best training online along with the most helpful and friendly community online, with all the support to get you building your online business. I highly recommend you read my #1 Recommended Program and sign up to get started today. It is what I use.
---
Share This: