Is Homejobstop A Scam? – Review
Share This:





HomeJobStop Review
Name: HomeJobStop
Website: www.homejobstop.com
Price: $18.00 One Time Joining Fee
Owners: Rita Woods
Overall Rank: 8 out of 10
HomeJobStop – Overview

Does working from home seem like the ideal situation for yourself?
Don't know where to look? Don't trust most sites that promote work from home? Tired of ads blasting you when you're looking for an online job?
Is HomeJobStop A Scam?
Well…well…well…
This and many other questions will be answered here. If you are not familiar with HomeJobStop, MAN…you're missing out. Especially if you want to work at home or telecommute, as HJS is strictly for these types of jobs.
HomeJobStop is not a scam; it is a thoughtful website designed to help people look for jobs online simply.
HomeJobStop was created by Rita Woods, as she was looking for a way to find how to make money online. What she found was mostly scams and time and money wasters. So she took it upon herself to create an honest and reliable job site. They do this by strictly screening and monitoring all submitted jobs before being posted to their job list. This is unbelievable as this save your time and headaches.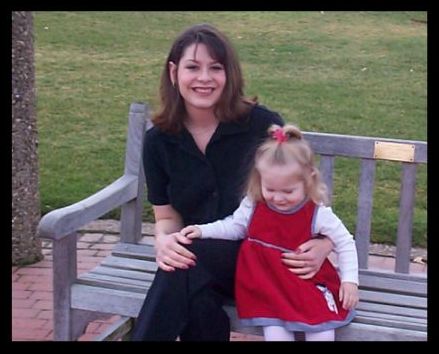 As well as scrutinizing submitted jobs, they are advertisement free. What a welcoming place to look for jobs as you can remain focused and concentrated on finding a job. Heck, it's already stressful enough. Right?
So, HomeJobStop has become a leader, by providing a no-nonsense approach to a usually hijacked and riddled field, that is full of misleading and confusing content. So, it comes as no surprise its success. Providing a safe haven for people looking for honest and decent work from jobs.
How To Join HJS
To have access to HomeJobStop Job Postings, you must first join and become a member of HomeJobStop.
This is refreshingly only a one-time payment of a very affordable price of $18.0o for full lifetime membership access.
Click Here To Join HomeJobStop!
Once you make the payment, you will access to the Members Area. This is where the jobs are divided into twelve different categories. You can also search by Job Title, Job description or even by state. As there is also full time and part time jobs available within.
Business
Clerical
Customer Service
Engineering/Programming
Finance
Creative Art and Design
Human Resource
Miscellaneous
Sales/Marketing
Medical Transcription
Web Development
Writers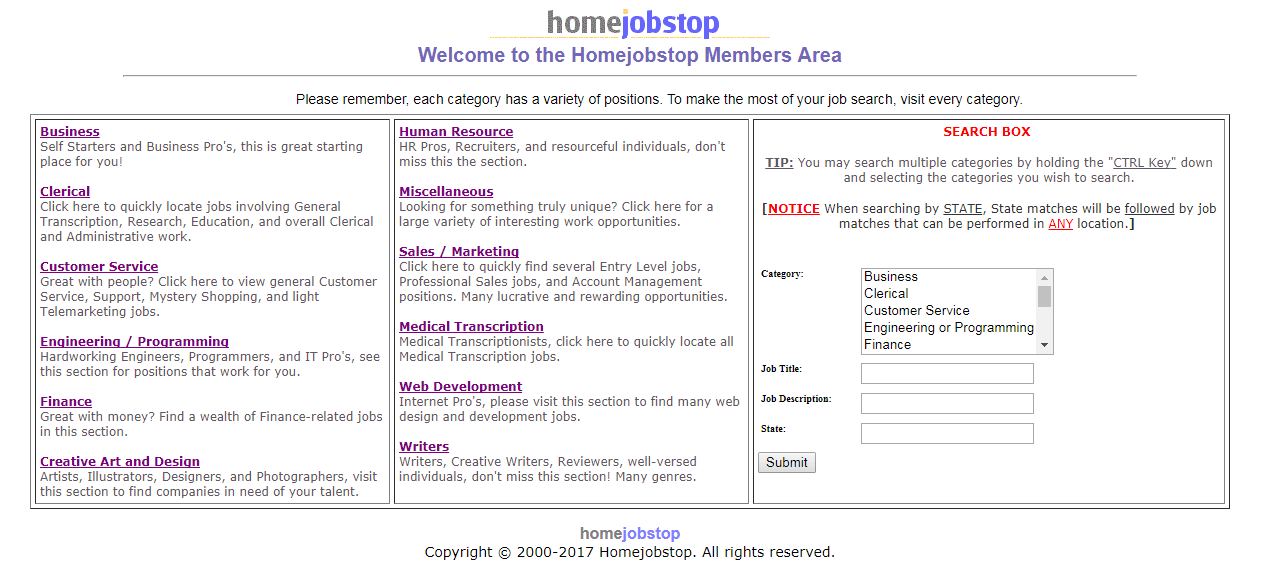 Don't worry about not having enough jobs either, as most of the categories each have hundreds of current job openings to search through. One category, at the time of writing this review, had almost 500 jobs within it.
You won't find any schemes within the job listings, like for examples chain letters, pyramid schemes, cash gifting, or stuffing envelopes.
The Good & The Bad
The Good:
Integrity #1.
A+ Rating with the BBB.
Updated daily!!!!
Roughly 90 Brand New posts every day!
Umm, it's been operating for 17 years. It's been around a while. That is a very respectable reputation for sure.
Zero dead links, at least I found none.
100% of advertisement. No advertisement once you pay your membership fee.
Strictly focused on telecommuting and work from home jobs.
Full-Time as well as Part-Time jobs. Heck yeah!!!
No schemes. Oh, what a relief…because they look over and screen every single job opportunity posted.
For only $18.00 a lifetime membership. Worth it! I love that there is no monthly fee, just a one, and done approach.
The ability to search by state, job title, or job description.
Active board. Jobs are continuously added and removed.
Lots of jobs to choose from!!! Most boards have hundreds of jobs to look through.
Privacy and security are paramount.
Most of the job descriptions are filled out and are very complete in scope, with a full description and requirements.
Complete and unconditional money-back guarantee. If you are unhappy for whatever reason will refund your money, no questions asked.
Never sell any of your personal information or offer any special offers from them or other services.
The Bad:
Not that many avenues of support. As far as I can tell just an email address. Not a big deal but would like to see other methods as well.
The platform look is kind of simple.
Jobs need to be more clearly separated when viewing, as they kind of bleed through each other visually. Would help with a simple dark line separating the different jobs.
Roughly 90 Brand New Posts Added Every Day!!!
HomeJobStop Tips
Read thoroughly through the job description and requirements before contacting the employer.
Be realistic about the jobs you're going to find at HomeJobStop. Most jobs pay in the neighborhood of $12.00 to $25.00 an hour.
When searching for jobs, look at every category to find the most appropriate position for yourself.
Have all your resume and cover letters and referrals ready and updated to represent your most current up-to-date information.
Remember to be self-disciplined, while working from home, as well as have a dedicated space (an office) for your working area.
Most jobs require an updated computer as well as high-speed internet connection.
Don't find something you like…keep looking for jobs as jobs are added daily.
Read the qualifications and determine if you qualify, this is usually always posted with the job.
Also be prepared to take some online test, as some jobs you will need to prove your worth.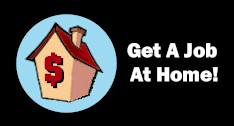 Who is HomeJobStop for?
People that are looking to work from the comfort of their own home. People that live remotely or just want to avoid the daily commute. It is also for people looking for extra monthly income as a second part-time job.
HomeJobStop Tools & Training
Tools and training are not relevant as everything is just reading and contacting.
HomeJobStop Support
They only have one avenue of support, and that is email. The email address is office@homejobstop.com.
HomeJobStop Price
One-Time lifetime membership of only $18.00.
My Final Opinion of HomeJobStop
When looking for an online job, people are very easily confused, inundated, overwhelmed. By the sheer amount of false information, scams, schemes and time wasters. Most people readily give up after a few hours of looking because of these reasons.
I love HomeJobStop!!!
Why? Simply, because it is a trusted site. That doesn't allow advertisement and most importantly screens all job submissions. Then strictly only allow the legitimate ones to be posted in their Member Section. The amount of time this saves the average job seeker is priceless. It just simplifies the process for you. And you know what else? It's well worth the price of the meager $18.00 for a lifetime membership. As you could easily waste a couple of hours just looking for legit jobs that allow you to work from home.
This site has integrity! This is only by charging people a reasonable fee, otherwise, without this process, you would have advertisements. This would further confuse the situation.
You can feel utterly safe with Home Job Stop.

HomeJobStop at a Glance…
Name: HomeJobStop
Website: www.homejobstop.com
Owners: Rita Woods
Price: $18.00 One-Time Fee
Overall Scam Rank: 8 out of 10
VERDICT: LEGIT
Hold On, Before You Go…
Want to work for yourself? You can start out building your own online presence while also working your full-time job. I work two jobs and still had time to build my sites. If you are looking for a 100% legit way to make money, by owning your own online business. It provides the best training online along with the most helpful and friendly community online, with all the support to get you building your online business. I recommend you read my #1 Recommended Program and sign up to get started today.
Share This: