Build A Website
Share This:





Looking to design and build a website?
Well, that's what this page is here to help you with today. We can get you up and running and adding content for FREE, right now!
Building a website is a very empowering undertaking!
Don't underestimate it. Creating a website is the key to unlocking the Internet's riches (reread that phrase again). For whatever your reasons might be, business or a personal website, having a website to share with the world is invaluable.
Are you passionate about something? What brings you joy? Do you want to start a business? This is where your passion for something should be driving you to explore and take action. It's been said a million times, "Do what you love."
Thankfully, websites these days are easily created within minutes, all the while looking very professional. Creating and maintaining a website will allow you to control and steer your personal vision to success.
No more learning HTML. Before, you had to be a tech geek to build a functional and aesthetically pleasing website. Well, not anymore. Thanks to advancing technology, normal folks like you and me, can build our own websites that are free and also user-friendly. Enter a domain name (catchy title or unique name) for your free website below.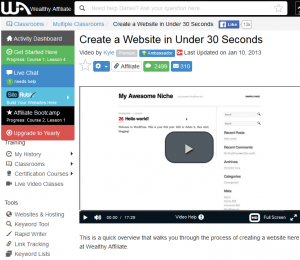 Build your website for FREE. Once you create your free account, you'll get access to two free websites and comprehensive training. This is how I learned and got my websites up and running.
Follow these 3 Easy Steps:
Sign up here for your FREE Website at Wealthy Affiliate.
Watch this video, taking you step by step through the process.
Build it.
You can also read my post on My #1 Recommendation which explains more about Wealthy Affiliate.
So, if you're dreaming of working from home or generating an income about something you are enthusiastic about, here it is!!!
"Follow your bliss, and the universe will open doors for you where there were only walls."  ―Joseph Campbell
Feel free to drop me a comment or ask a question; I would be more than happy to help.
Share This: