Is Cash Tracking System A Scam?
Share This:





Cash Tracking System Review
Name: Cash Tracking System
Website: www.financialfreedomsites.com
Price: Starting at $500
Owners: Unknown
Overall Rank: 3 out of 10
Cash Tracking System Overview
What is Cash Tracking System? Is Cash Tracking System a scam? In this review, I hope to help you understand how this system works or maybe how it doesn't work. To explain what you might be getting into and to help avoid this pitfall. The name is usually shortened to CTS, and as a heads up, I might shorten it to this throughout this review.
Well, let's get right into this. Cash Tracking System is, in a nutshell, a cash gifting scheme. Yep scheme! More on this later.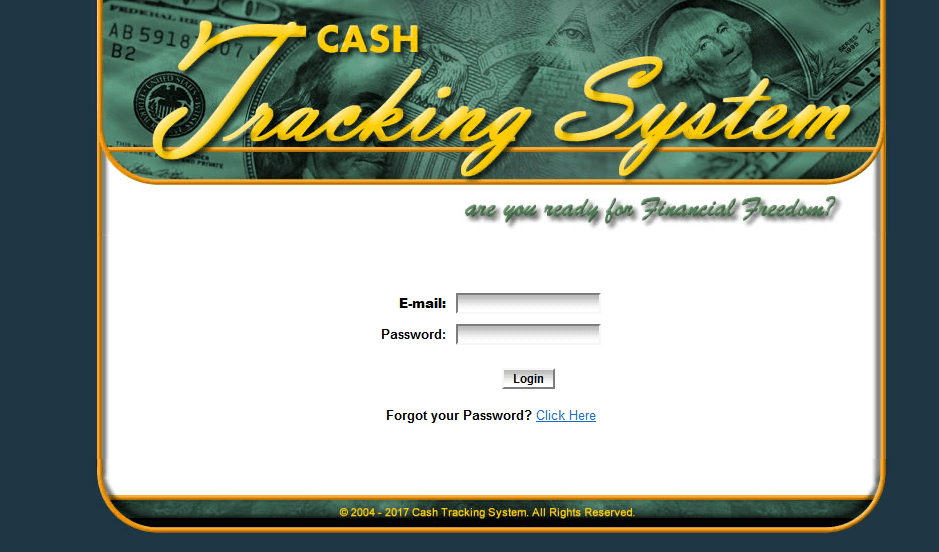 What is a cash gifting and how does it work?
This has been around for numerous years, in different forms called by different names, for example, remember chain letters. Chain letters are a form of cash gifting. Maybe you remember this from the eighties and nineties. Basically, you received a list of names, you gave a dollar to a determined number of people on that list then added your name to the list. In theory, this was supposed to make you rich, well long story short, it didn't!
Basically, cash gifting is a term used in estate planning in which a person is allowed to gift someone up to $12,000 without that person paying taxes on that gift. Anytime you give someone money above that amount you are taxed.
To divulge any information to at all about Cash Tracking System you must first sign up with them, such as full name, email address, phone number and create a password. The reason for this is you must be invited to be a member, a hierarchy of a private members-only club. So the only way of being a member is to be invited. Once invited you are given a password to the site.
You will be greeted by an introduction page and the 7 step process. Where all of their methods of earning an overview of how Cash Tracking System works.
So CTS is made up of 3 levels of cash gifting, then with two other if you wish to be fully optimized by combining the levels. So a possibility of 5 levels. What you gift to the person above you determines, why you, in turn, will be gifted to you. So if you only gift $500 to the person above you, if someone joins below you, will only be paid if that person joins at the same level ($500). If they join at the $1000 level, you earn nothing.
The levels are:
$500.00
$1000.00
$1,500.00 (Combination of level 1 and 2)
$2000.00
$3,500.00 (Combination of all levels 1, 2, and 4)
To join you must decide what amount you are willing to depart with to the person who invited you; this is called a cash pledge or a cash gift. This money is usually sent via Fed-Ex overnight delivery. Most people would also hide the money in several envelopes within a magazine to disguise the cash hidden within.
Once joined (coughed up the money) they are then able to receive cash pledges or gifts but only first by giving the first person to sign up under them to the person that invited them in CTS. What? Yep…give. So even if you do get someone to sign up under you, you will not see any money from doing that, by default, it is given to your inviter. This is called "1-up".
Are you willing to give someone up to $3,500.00 (cash gifting) with no guarantee of seeing any return? I'm not. Just sitting there, waiting for the Fed-Ex package to arrive, as the days go by and nobody has sent you that much cash. Forget that noise.
Well when you hid things, things like your website, phone numbers, who owns the company, or actually company (btw, did you know it's not even a company?) or a product, this is, in fact, a scam. This is the first rule in determining if a product or service is a scam. Transparency, if it doesn't have transparency guess what? Yep, a scam. This company has no transparency, so run, full sprint away from Cash Tracking System.
The Good & The Bad
The Good:
Claims to be in existence since 2009.
The Bad:
Zero transparency. Your little voice should be screaming SCAM ALERT!
Anything that promises overnight success or quick money, you should immediately stop and run as fast as you can the other direction. Your money will thank you later.
Complaints of receiving phone calls every day with prerecorded messages that last up to 10 minutes.
Promises lead to a large amount of people that also want to make money. 5,000 to 10,000 leads. Really…In reality, these are probably dead-end leads, if not why doesn't the person use these great leads for himself. Plus there are only so many leads to grow around.
Deceiving practice of not even having the same name as their website. This is immediately a

red flag

.
No real product is being sold. This equals a scheme.
To find out more information you must sign up. Transparency is lacking here.
Low interest around cash gifting for obvious reason.
A monthly fee of $34.95 for hosting a website with a $25.00 setup fee. Overpriced for sure!
Lots of fees.
Severely overpriced optional courses to help with you become successful by taking more money from you in order to train you. Try on the order of $600.00 to $1,100.00.
The free websites they give you are clones of other websites, so you are just a carbon copy of other sites. You won't stand out in any way.
Cash Tracking System Tips
Avoid this! This is my only tip.
Cash Tracking System Alternatives
I don't recommend alternatives to apparent scams, as what is the point of recommending another scam to someone. Just avoid this.
Who is Cash Tracking System for?
People that want to separate their money from their person, then spend their valuable time (wasted time) trying to find other people to sign up under them. I am being sarcastic. Sure some people (mostly the ones at the top) probably made some money, but for the most part regular people possibly thousands of them made nothing.
Are you the rule or the exception?
Cash Tracking Tools & Training
What I see they have more training other than the 7 step process but that my friend will cost you. From around $600.0 to 1,100.00 in additional money. They're not setting you up to succeed but drain you of money.
Cash Tracking Support
Supposedly they have a Questions and Answers calls once or twice a week to answer any additional questions prospective members might have.
Cash Tracking Price
The price varies from $500.00 to $3,500, plus website hosting fees and maintenance of $35.00.
My Final Opinion of Cash Tracking System

Stay Away!! Caution Scam! Are you really willing to give someone money and expect to get money in return, with no guarantee? Not this guy. It might seem alluring with some guy opening Fed-Ex packages with thousands of dollars but trust me, you will lose money, and you will lose it fast.
Cash Tracking System is not a legitimate way to make money. Cash Tracking System is a scam! Do yourself a favor and stay away from this cash gifting system.
Cash Tracking at a Glance…
Name: Cash Tracking System
Website: www.financialfreedomsites.com
Owners: Unknown
Price: $250.00 to start.
Overall Scam Rank: 3 out of 10
VERDICT: NOT LEGIT
Hold On, Before You Go…
If you are looking for a 100% legit way to make money, by owning your own online business. It provides the best training online along with the most helpful and friendly community online, with all the support to get you building your online business. I recommend you read my #1 Recommended Program and sign up to get started today.
Save
Save
Share This: