What Is Clixsense? Review!
Share This:





Clixsense Review
Name: Clixsense
Website: www.clixsense.com
Price: Free Membership – Get Your Free Account Today!
Owners: Steve Girsky and Jim Gragogh
Overall Rank: 6.6 out of 10
Clixsense Overview

Many people stumble across Clixsense name and think to themselves, what is Clixsense? Review? Well, I hope to impart some knowledge and see if it a decent way to earn some extra cash all working from the comfort of your own home.
Clixsense is a PTC (Paid To Click) site that has been around since 2007. That's longevity in this field. It was also one of the first pioneer in the Paid To Click sites. So you can rest assured this site is totally legit and it pays.
Paid To Click (PTC) generally falls under many different tasks for earning revenue, like taking surveys, clicking on advertisements, doing micro tasks, visiting websites, shopping online, Contest Offers, and ClixGrid.
On top of the normal features, it also contains a very potential earning affiliate program, by just referring people to sign up and join Clixsense. This program is a lot beefier than most affiliate programs.
Types Of Membership
As with most PTC sites, they have the standard membership which is always free, but this is the first time I have noticed where a PTC has a premium membership.
Free Membership
Premium Membership $17.00 a year or $30 for two years.
If you plan on using the site pretty regularly, I would highly recommend you sign up for the Premium membership, as more opportunities and increase in earnings from the free membership, as well as an increase in potential referral commissions. Most importantly they have an 8-Tier Affiliate program that pays up to eight levels on referrals. This is a pretty nice affiliate program for a PTC site.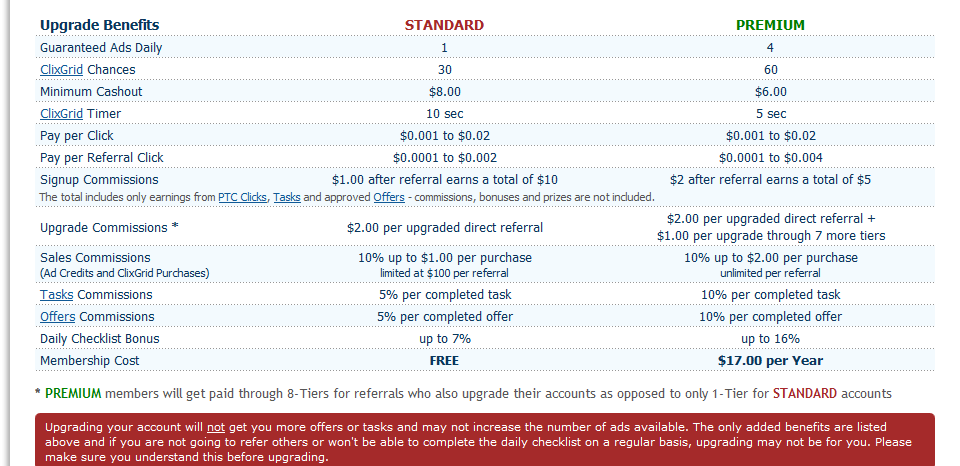 Payment
Clixsense aims to please in the payment method as it gives you six possible methods of payment. What's not to love about that. Here they are:
PayPal
PayToo
Neteller
Tango Card
Payza
Check
All electronic payouts are processed daily, and they usually take 4 to 5 business days to be received. Another great feature.
Checks are mailed once a month only.
There are minimum cashout levels for different memberships. $6.00 for Premium and $8.00 for Standard membership.
Types Of Ways Of Earning
View Ads – This is the easiest way to make money in my opinion but always the lowest payer. How low as low as $0.001 for watching a 5-second ad.
It seems the longer the ad, the more the pay. You are exchanging your time for money, just something to keep in mind. Read my tip on this below with multi-tasking.
5 sec of your time = $0.001
15 sec. of your time = $0.005
30 sec. of your time = $0.01
60 sec. of your time = $0.02
Surveys – Oh the dreaded surveys…Oh how I personally hate them, but I also understand people like doing them, it's just I can't stand them. They just seem to suck up so much time for little pay as they still micro portions of your soul. You don't have to be a math wizard to figure out most of these pay out less than minimum wage. I just want to put that out there, but also you are working from the comfort of your own home as well. Which is nice.
A nice feature of the surveys is they are pretty upfront with you about the time it takes to complete a survey and the amount of pay you will receive for completing. Expect also for some surveys to take longer than what is posted.
If you are new to surveys, try out a couple of surveys and see if you like them or not. You will know at the end of two surveys whether you will be doing this more in the future.
Tasks – Can vary in a wide range of what I call micro tasks, like for example taking more surveys, watching and playing videos, online searches, data entry, comparing images, finding errors. At the time of writing this, they only had on job available, but I am sure this is often updated. This is a good way to earn at Clixsense.
Generally, the longer the tasks to complete it the more the pay. Again, time is money.
Offers – This one can have you installing Programs onto your computer or smartphone, signing up for monthly trials or emails, registry for online competitions, purchasing a service or software, and also signing up for monthly subscriptions. So some of these you will be paying for a service and making some side money on purchasing it. Which seems strange to me, I would only use this if I was going to buy this anyways.
Clixgrid – Is a random chance game that has 600 squares and you have a predetermined amount of picks. 30 for standard and 60 for premium. So, if luck is your best friend, this can be a great way of increasing your earnings, as the Pay a total of 6 prizes if you guess a right square.
$10.00

$5.00

$0.50

$0.25

$0.10

Extra chances of winning.
The Good & The Bad
The Good:
Many options for making money here, like PTC, surveys, view ads, micro jobs, complete offers, Clixgrid, Daily bonus checklist,
Rather low cash payout level, which can be either

$8.00

for a standard member or

$6.00

for a Premium member. I have seen some PTC sites as high as

$30.00

to receive payment.
Clixsense has an extensive and somewhat active forum. A forum is a great place to communicate with staff and other members. Valuable information can be found in there.
A comprehensive FAQ pages. Full and all-encompassing guarantee to help any noob or a seasoned veteran.
No problem of every not getting paid and always on time. Like

Clockwork.

All countries accepted. International members welcomed.
One of the best referral programs out there when you sign up for the premium account. This allows you to go down eight levels in which to get commissions on. Nice!!!
The most options I have ever seen for payouts. 6 methods of payments – one sure to fit your needs. PayPal, PayToo, Neteller, Tango Card, Payza, and check.
Many awesome reports of customer service.
Good rates for advertising.
The Bad:
Most jobs don't pay that much. It's hard to stay motivated when pay is low.
Have to join Premium (

$17.00

a year) to receive more options & better pay. This might be worth it if you want to go deep on using Clixsense.
Only one account per household is permitted to protect their advertising system.
Clixsense Tricks & Tips
The first step to making money at Clixsense is to Join Clixsense website and signup and fill out your personal information to join.
Time is money. Realize this and understand how much your time is worth to you and take steps to get the most money for your time and effort.
If you're going to go premium, you better be damn sure you are going to make that $17.00 back and then some. To make it worth your while. I would highly recommend that you spend some time on it before deciding to go premium.
If one is truly committed to using this PTC, Clixsense has an add-on button for desktop called ClixAddon, which can be found at the top of the screen. ClixAddon will alert you instantly to new PTC Ads, Surveys and Tasks as soon as they are available. They support three browsers for this: Chrome, Firefox, and Opera.
Before heading off and paying for the premium membership, make sure you are going to stick with this for a year. So you should become pretty familiar with the whole site and explore the many options here and see if you want to commit to it.
Avoid advertising your website on Clixsense as many report the quality of traffic is less than desired.
Have two monitors; this is a must for the Click on Ads as the timer will stop if you minimize the screen or switch to a different tab. Just Slid the tab with the Clixsense ad on it to the second monitor and multi-task. Especially if it is a 60-second ad. Don't just watch the ad, you have to multi-tasks as your time is more valuable than the possibility of earning $0.02.
Visit the forum and find more tips and other useful tidbits there.
For surveys try to do the lowest time for the most pay, a quick glance can easily tell you which one is the best one.
This is the most effective method of making money at Clixsense. Post referral links on all your social media sites and if you have a website also. This will increase your likely hood of getting referrals. Clixsense has a pretty decent affiliate program, and it is in your best interest to take advantage of this. If you need a website, I can get you started for Free. Join SiteRubix Now!
Clixsense Alternatives
There are a lot of alternatives to Clixsense. I will share some of them below as some of them I have also reviewed.
Who is Clixsense for?
Someone that is looking to make extra money working from the comfort of their home. If you are at least 16 years or older, you can start making money at Clixsense. Younger potential members can get parental consent to be allowed to join.
Not only young teenagers but if you are able to join. (except 11 countries that are banned)
Clixsense Tools & Training
Clixsense has an extensive tool and training available. They have a multitude of videos showing how they work.
Clixsense Support
They have Support in spades at Clixsense, from extensive FAQ pages, Ticketing system, and a Helpdesk with announcements. Problems will have an answer somewhere in the mist of these various options of support.
Clixsense Price
There are two types of memberships at Clixsense.
Standard – Which is FREE to join and make money.
Premium –  This costs $17.00 a year to join, with many increases in pay and advantages.
My Final Opinion of Clixsense
What is Clixsense? Review! Well, one thing is for certain, Clixsense is not a scam. This company is one of the first pioneers in the PTC world and have been steadily paying people ever since. I really like how payments are automatic and on time. Most other PTC do not offer a pretty active and useful forum to their users and it is a nice feature, but they do not have a live chat as most other places do.
I just want to state that making money is possible here at Clixsense….but the pay isn't the greatest for the time you are spending here. As with any PTC it is a way to earn extra money but not a job replacement by no means. If you want to get serious about making money online, check out my link below.

Clixsense at a Glance…
Name: Clixsense
Website:www.clixsense.com
Owners: Steve Girsky and Jim Gragogh
Price: Free Membership & Also A Premium Membership ($17.00)
Overall Scam Rank: 6.6 out of 10
VERDICT: LEGIT
Hold On, Before

You

Go…
If you want to make residual income and move past PTC sites and need something more substantial.
Keep Reading…
If you are looking for a 100% legit way to make money, by owning your own online business. It provides the best training online along with the most helpful and friendly community online, with all the support to get you building your online business. I recommend you read my #1 Recommended Program and sign up to get started today.
---
I would love to hear questions or your personal experiences with Clixsense below. Thanks!!!
Save
Save
Save
Save
Save
Save
Save
Save
Save
Save
Share This: