What Is Wondough? A Complete Honest Review
Share This:





Wondough Review
Name: Wondough
Website: wondough.com
Price: Free to join.
Owners: Unknown 
Overall Rank: 5.1 out of 10
Wondough Overview

I was recently contacted by Wondough to review their site, as I haven't heard of Wondough before. But this is usually the case, as it is nearly impossible to stay on top of every business out there in which to potentially earn income from. This is an excellent way for me to find new and existing ways to make money, ***side note here*** if you (the reader) know of any website that you would like to share, please leave a comment below, and I would be more than happy to look into.
Now, that is out of the way, let's get into the nut and bolts of this company. Here we go.
Wondough is a reward program that pays you for completing a task. What kind of tasks, you ask?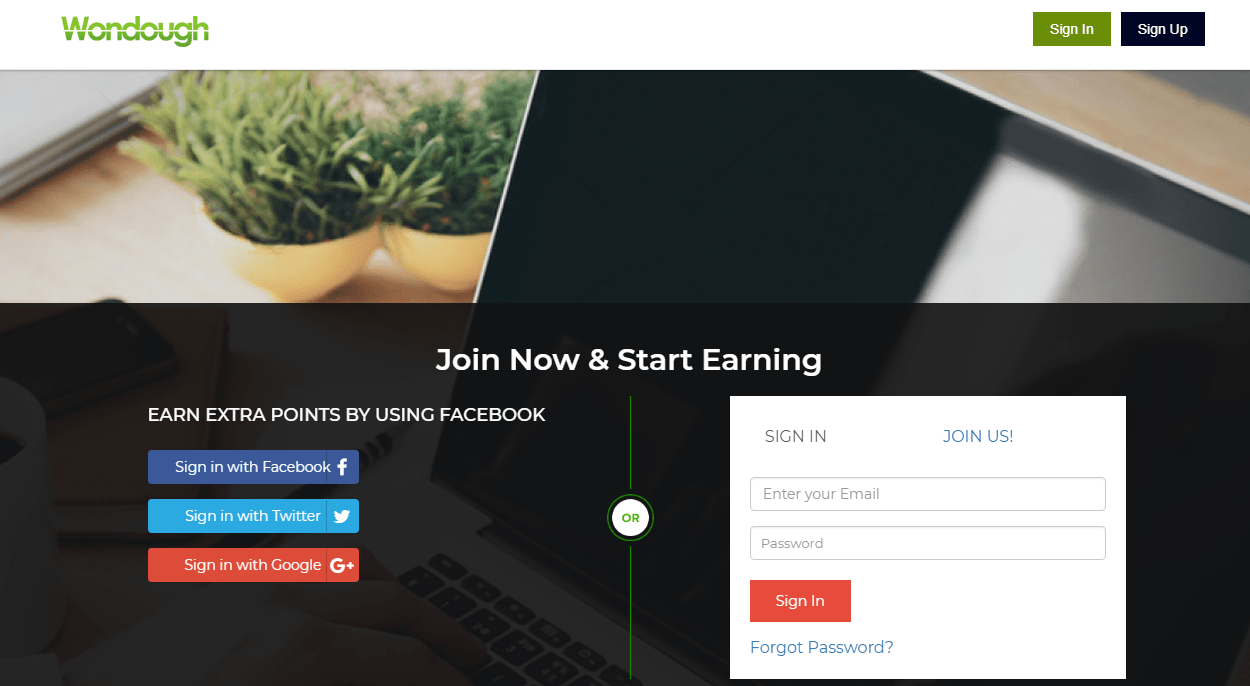 Ways To Earn Money
Watching videos.
Taking surveys.
Downloading apps.
Visiting websites.
Registering on various websites.
Coupons, this should be called Shopping. This is browsing this section, then clicking on a product and purchasing that product to receive points.
There a total of six simple tasks to do in which to make earn points. Those points can be exchanged for gift cards. Currently, those gift cards are only on Amazon.
$3.00 Amazon Gift Card
$5.00 Amazon Gift Card
$10.00 Amazon Gift Card
$15.00 Amazon Gift Card
$25.00 Amazon Gift Card
$50.00 Amazon Gift Card
$100.00 Amazon Gift Card
$250.00 Amazon Gift Card
$500.00 Amazon Gift Card
How much are points really worth at Wondough?
Well, believe it or not, I had to research this off-site, as I couldn't find the information on their website. Bad…bad…bad.
What I found was for every 1 point is worth $0.01. If you had 100 Wondough points, it would be $1.00.
The Good & The Bad
The Good:
I like the disclosure of the points you earn as well as the time it should take you to complete the task. This is very clear on time and points received.
Free to join and start earning.
You will get paid.
Love the number of price ranges for gift cards from $3.00 all the way up to $500.00.
The Bad:
Lackluster FAQ page, it lacks depth, just having 5 answered questions.
A limited amount of surveys available.
Doesn't pay much!!! Like all survey sites and get paid to websites, you will not be getting rich by using such sites. You will be making money, but nothing substantial.
Some of the features and buttons take you to dead ends. Like in Coupons clicking the double arrow, takes you to a blank page. The home page has a button that cannot be clicked. Wow, just wow!
The coupon section of their available offers should be called Shopping. As I see no discount highlighted, either on a page or where the link takes you.
I couldn't find anywhere on their site how much points are worth. There should be entirely clear transparency about this and stated readily to find. So users can determine for themselves if it's worth it to them.
You are exchanging your privacy to earn points, in the form of surveys.
No real person to talk to from phone number.
Watched one video, still, haven't been credited my 1 point. I'm still waiting…
Misleading home page stating "So Many Awesome Ways To Earn", well, in fact, there is only one method, and it is Amazon Gift Card.

Wondough Tips
Fill out the initial Wondough survey to start out with 50 points. It has only 11 questions to answer. Simple to get started.
Try to find a task with a lot of points with minimal time to invest, this would allow you to earn the most possible.
Value your time. Understand you are getting paid points, not dollars. Know what your time is worth to you!
Wondough Alternatives
I have highlighted a few of the companies I have reviewed below as well as links. You have to try Dealspotr!!! A great website.
Dealspotr – This is one I really like!!! I highly recommend this! Why? Because it's simple, it pays a lot better, and you are helping someone else out, by saving them money. It's a lot different than survey sites; you just share promo codes or sales on their website. Join Dealspotr here or Read my review, What Is Dealspotr About?
Swagbucks – My review on Swagbucks, Is Swagbucks Legit?
instaGC – My review on instaGC, Is instaGC A Scam? & Earn Money From Home
PrizeRebal – My review, Earn Money From Home
Swagbucks – My review, Earn Money From Home
Neobux – Read My review here, What Is The Neobux About?
GetPaidTo – Read my review, What is GetPaidTo?
Offers2Cash – Another review for your reading pleasures, Offers2Cash Review.
Clixsense – Read my review, What Is Clixsense? Review
Who is Wondough for?
Now, if your looking to replace an income or makes some big bucks this isn't for you. As survey and GPT websites will NOT get you to financial independence despite how much time you spend on them. This is for people that are looking to earn additional income by doing simple tasks from the comfort of their chairs.
I am notoriously a hater of doing surveys, but I also understand some people enjoy this. Just because I personally disdain them, as I  see it as me getting underpaid and wasting my time doesn't mean you shouldn't do them. I just know what my time is worth. Wondough has other options too, other than doing surveys, which is great if you hate surveys too.
Tools & Training
Very little to no training is offered at Wondough. This is, after all, a reward site slash, survey slash, and get paid to websites. After doing one or two tasks for a newbie, it is somewhat self-explanatory. But, maybe a video walkthrough of hints of taking a survey or an FAQ with a question and answer with how to deal with frequent survey problems.
Support
They offer a few methods of support: A contact form, a toll-free number, mailing address, and email address. Would like to see chat support provided, this may come in time.
I called their phone number and was greeted by a leave a message at the beep. Oh, boy!!! Really???
My Final Opinion of Wondough
This is definitely a new company in the world of survey sites. As I get this feeling from of the design and layout of their website, many things need to be tidy up too. For example, no explanation of their point system is a big negative to me. As you would think that Wondough would explain their point system, and would be on their FAQ page but isn't. Transparency is paramount in the world of survey sites. This oversight is hard to look past.
This company needs more refinement and transparency. I have reviewed other survey sites, reward sites, and get paid to sites and this falls short in comparison to them. Maybe this is due in large part to their a new company. If improvements were made, I would be willing to alter my views and do an update.
If you are willing to forego their shortcomings and accept it, in time the company is sure only to get better.
But for me currently, I will wait…
Wondough at a Glance…

Name: Wondough
Website:  wondough.com
Owners: Undetermined at the time of writing this.
Price: Free to join and use.
Overall Scam Rank: 5.1 out of 10
VERDICT: LEGIT (barely)
Hold On, Before You Go…
Not satisfied with what you earn on survey sites? Looking to make more money? How about owning your own website and making money from that? This method provides the best training online along with the most helpful and friendly community online, with all the support to get you building your online business. I recommend you read my #1 Recommended Program and sign up to get started today and earn what you deserve.
---
Have you used Wondough? Let me know your experience to help out other people determine if it is right for them.
Share This: