Is Superpay Me A Scam?
Share This:





SuperPay.Me Review
Name: SuperPay.Me
Website: www.superpay.me/
Price: FREE
Owners: 99 Venture LTD
Overall Rank: 7.8 out of 10
SuperPay Me – Product Overview
Is SuperPay Me a Scam? Can you expect to make money with SuperPay Me?
Well, we first must discuss what SuperPay Me is. SuperPay.me is what I call generally a survey site, but it has more than just surveys to fill out. It also goes by GPT site, which is an acronym for Get Paid To. They also have Daily Tasks and Daily Surveys to complete along with Watching Videos, Paid To Click(PTC), CPC, Quick Submits, Trial Offers, etc.

They openly post how many members (400,000) the currently have along with the total amount of money paid out ($500,000). Which I'm surprised it isn't more popular considering the benefits compared to other comparable sites.
Payment Options & Method
There are two methods of payment offered by their advertisers one is the holy grail (cash), the other is points. Different advertisers pay differently, so be mindful of that. Cash is easy to understand, while the points method is easy too, with 1 point = $0.01. So 1 point is 1 cent, you need a hundred points to make $1.00. But also too, under the Rewards tab, you can convert points into cash and cash into rewards, under Convert Points & Cash.
Another great thing is the minimum cash-out payment is only $1.00. Most sites are $10.00 or $15.00 dollars and some even as high as $30.00, but not here it's a buck!
Ways To Earn
Surveys – On average the payouts for surveys completed are between $.40 and $1.50 but can go much higher for some surveys. The amount of pay is usually determined by the amount of time it takes you to complete the survey. A 20-minute survey is going to pay more than a 5-minute survey. This is where you'll make the most money at here at SuperPay.me.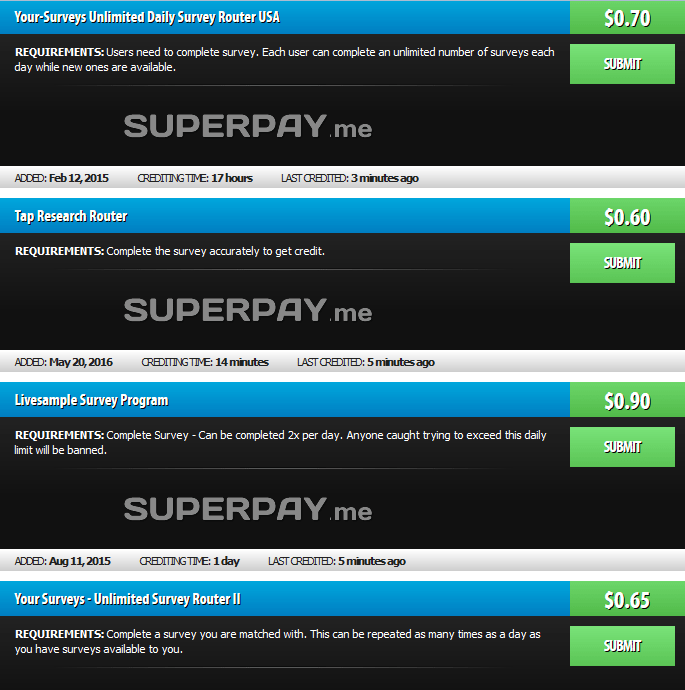 Paid To Click – Not going to make the most money here, but it sure is easy. Just click the advertisement and a new screen will pop up. Then allow the page to load, and at the top of the screen in black it will show you when you have been credited and you can click the Return to SuperPay to SuperPay.me. It's a 10 second wait time. The pay can be a $.01 to $.0001. Told you, it wasn't much!
Referral – Everyone that signs up through your affiliate link, you earn 25% of everything they receive for life. How great is that? So, try and get friends and family involved or if you have a blog or website openly promote Superpay.me to earn additional income passively.
The Good & The Bad
The Good:
Only $1.00 to request payout, probably the lowest in the field. It's amazing for this type of site. Some sites require a minimum of $30.00 to get a payout. A real positive.
Great Affiliate program, with a 25% of what the person you referred makes. Very generous! I would greatly appreciate you signing up under me on Superpay.me and this would support this site. Join Superpay.me now.
Many methods of receiving payments. PayPal, Payza, Skrill, amazon.com, and bitcoin.
Shoutbox is a great tool that runs on the side of the screen to chat and ask questions, ask moderators for the best offers and ways to earn. Very friendly and helpful. Take advantage of this.
You can receive payment in a little as 4 hours and sometimes up to 24 hours. Super fast payment!!!!!
SuperPay.me also has contests, which are daily, weekly, monthly, and yearly for hard cash. If you are within the Top 20 who earn, then you are entered to win cash.
They have promo codes that they put on Facebook and Twitter, enter these codes for easy points.
The Bad:
Confusing and unnecessary two types of offers, Cash, and points. Depending on the advertiser is what you will be credited with. Points are only good for Amazon Gift Cards. While Cash can be transferred via Paypal, Payza, Bitcoin or Skrill.
Will charge you 2% for Paypal and Skrill and 3% for Payza to cover payment processor fees.
Some offers take 30 days to credit. OMG, Becky!
As with all survey sites don't expect to get rich doing them. Expect to make some money though.
Must be 18 years of age in order to participate. This would be great for younger teenagers to use if they allowed a younger age.
Return on your time isn't generally reciprocated via pay.
Soul-killing after doing your 30th survey.
Tips for SuperPay.me
Probably the most important advice to pass on is to clear your browser cookies, Every time something credits! Just like most survey sites, this is uber important to do this, so you will be credited for every offer you complete. SuperPay.me recommends ccleaner program to clear cookies. You can download the free version CCleaner download.  I have used this program in the past and does a great job.
Leave the completed page open for a few minutes to allow for the credits to be credited to you.
Weekdays are better than weekends for finding offers.
Be honest. Use your correct information.
Peanut Labs & OfferWalls is the popular ways to earn on SuperPay Me.
Follow them on Facebook or Twitter to get promo codes from SuperPay.me to get easy points.
Sites Similar to SuperPay.me
This really seems to be a growing market in the GPT and surveys sites, judging by the amount in existence. I haven't used all of these but might in the future, but if you are interested here is a list.
Dealspotr – I really like how easy it is to make money on this site and it's different than survey sites, Join Dealspotr here or Read my review, What Is Dealspotr About?
Swagbucks – My review on Swagbucks, Is Swagbucks Legit?
instaGC – My review on instaGC, Is instaGC A Scam? & Earn Money From Home
PrizeRebal – My review, Earn Money From Home
Swagbucks – My review, Earn Money From Home
Neobux – Read My review here, What Is The Neobux About?
GetPaidTo – Read my review, What is GetPaidTo?
Offers2Cash – Another review for your reading pleasures, Offers2Cash Review.
Clixsense – Read my review, What Is Clixsense? Review
TreasureTroppers
Cashcrate
Squishycash
Sendearnings
Zoombuck
Dollarsignup
Surveysavvy
Buxp
Meprizes
Who is SuperPay.me For?
It's for people that need to supplement their income, but don't expect it to take the place of a second job. As I have always thought about surveys sites, you can make money in your spare time. Like, instead of watching TV or reading you could be earning some dough doing surveys. Or if you are a teenager looking to make extra money for whatever reason, it's also a fantastic way to earn money without getting a job and just doing it in your spare time.
SuperPay.me Tools & Training
When you first sign up for SuperPay.me you will receive three emails, in those emails. With those three simple emails, you can get steam-rolling and get you started earning money right away.
Welcome To SuperPay.Me – Basic Information with a link to the Quick Start Guide. A must read.
Easy Ways To Earn Up to $20 Every Day with Superpay.me
Get paid 25% Revenue Share per Referral
SuperPay.me Support
The first method of support here is the obvious Shoutbox chat platform on every screen. You can ask members or Moderators questions, and they will steer you in the right directions. Every Moderator I chatted with was extremely helpful. Another method of connecting with Superpay.me is through their Contact Us page located at the bottom of every screen.
So finding help here, isn't hard at all.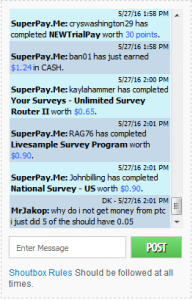 SuperPay.me Price
This site is free they pay you.
My Final Opinion of SuperPay.me
Is SuperPay Me A Scam? No, they pay and in my opinion on SuperPay.me, it is a general good survey site, but with that, keeping in mind all survey sites are income limited, in that you basically won't earn enough money. They have nice features like Shoutbox, surveys and other means of earning money, but their affiliate program is great and the best I have seen compared to their peers, like Inboxdollars, instaGC, and others. It comes down to the individual and their financial needs.
But you will not get scammed because they do pay and with lowest payout requirement in the field. It's one of the better in my opinion in terms of options of surveys sites.
If you want more earning potential check out my review of Wealthy Affiliate. Where you learn how to build a successful online business. They even have a Free Starter Membership.
SuperPay.me at a Glance…

Name: Superpay.me
Website: www.superpay.me/
Owners: 99 Venture LTD
Price: Free
Overall Scam Rank: 7.8 out of 10
VERDICT: LEGIT
Hold On, Before You Go…
If you are looking for another 100% legit way to make money, by owning your own online business. It provides the best training online along with the most helpful and friendly community online, with all the needed support to get you building your online business. I recommend you read my #1 Recommended Program and sign up to get started today.
If you have any questions or comments, I would love to hear them below. Thanks.
Save
Save
Save
Save
Save
Save
Save
Save
Save
Save
Save
Share This: