What Is My Business Venture?
Share This:





Are You Looking To Get Into E-Commerce?
To get started, My Business Venture (MBV) is a technology service company that's been around for 23 years. Not only that but an A+ with the Better Business Bureau and an active CEO that is dedicated to providing the best complete e-commerce solution.
Now, you might be asking yourself, what is a technology service company? Right? A legitimate question for sure.
They provide services for entrepreneurs (aka people looking to make money) who are looking to establish an online presence in the form of a website. As My Business Venture will build a website for you and provide a wide range of products in which to sell items from this website. Coupled with this the latest high-speed servers and much more. (see below) Along with this, all the support you could throw a stick at.
Sounds good right? I know.
So, if you are looking to enter the world of e-commerce, MBV is a company that will get you rolling and very much simplifies the process. Taking away the need for learning how to build a website, as well as worrying about what products to sell and much more. As MBV has over 15,000 products in which to choose to sell on your own personalized website. This will not take long either, and in a short amount of time have a site up and running to your liking.
How Is This Different Than Shopify or BigCommerce?
Although, there are plenty of similarities between MBV and Shopify and BigCommerce the primary thing that separates MBV from the others is the availability of a massive list of inventory.
How much inventory?
Try over 15,000 products. All in a very vast range of items, from name brand electronics to bath and body products and everything in-between. This allows you the flexibility to choose what your site will be based around by providing the merchandise without having to have stock inventory.
With the other companies, you need products to sell. Not here, as they have their own inventory.
MBV provides a complete e-commerce solution.
Who Is My Business Venture For?
My Business Venture is more for entrepreneurs with enough money to lay down to get started with their business. People with enough money but not enough money to buy their own franchise. Maybe you fall into this category. They provide everything you will need, and for this reliance, you pay more money for this but…it is worth it.
Three Ways Of Making Money
First, you need to decide if My Business Venture is right for you. To help make things a little clearer, I will list the cheapest method of making money to the most expensive.
Affiliate Marketing – You do all the work, learning, and building for free or for a small fee. (see below)
My Business Venture – You pay a reasonable price, in return, you get a website built, with a big list of products to choose from and endless support. You'll have a whole team behind you.
Buying A Franchise – You pay a lot of money to own your own business. Requires a lot of initial investment of money.
Why do I know this, because it saves you time if you went the route of doing this yourself? I know because I have built multiple websites and believe me it takes learning and time. Time is money! Along with saving you time, the support is 24/7, so you'll always have someone to rely upon if you run into trouble spots.
If you don't have enough money and want to get going but still want to build a website which will pull in money for you, I HIGHLY recommend you visit my Wealthy Affiliate Review here,  Wealthy Affiliate Review 2017, Legit Money Maker. This will teach you the correct and proper way to build a website with relevant content which will bring traffic to your site. It's what I still use, and I've been a member for two years now.
If you're considering investing your time and money in a website without the usual work involved My Business Venture is an excellent choice.
What All Comes With Joining MBV
Website hosting that are high-speed.
Credit Card processing
A Large inventory of products to choose from.
Custom designed logos for your website.
Programs to help you better manage social media.
Shopping carts.
Secure payment gateways.
Strategic marketing campaigns to get you succeeding.
One-on-one training.
Live chat for quick solutions to problems.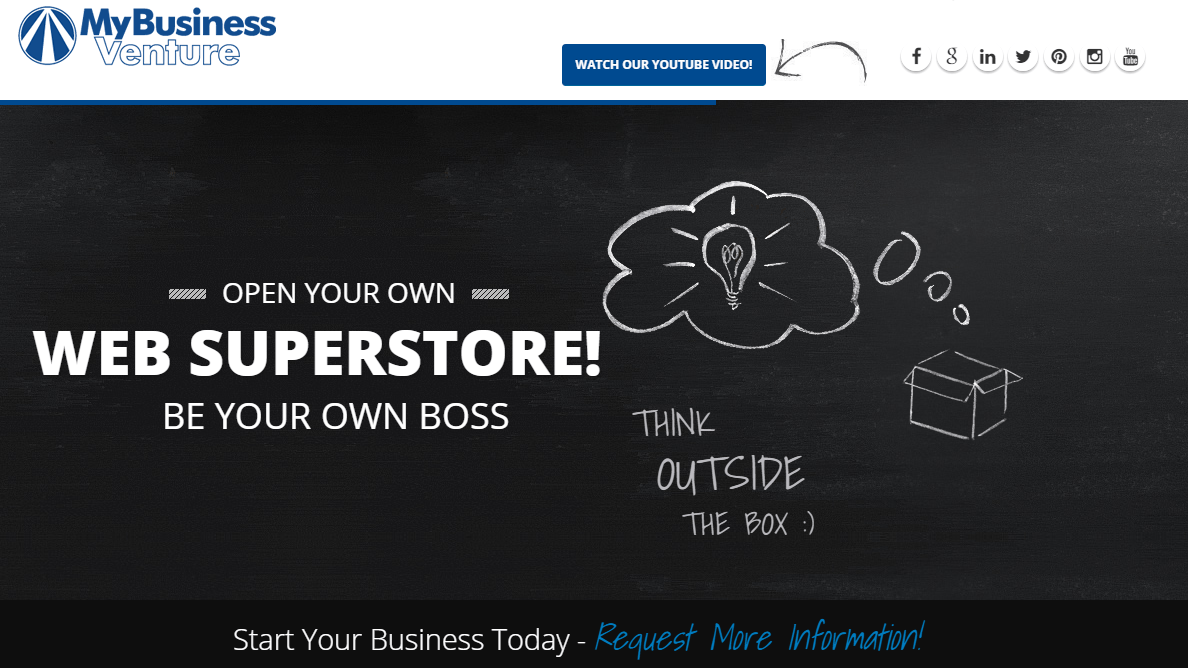 For a more in-depth review of My Business Venture, head on over to my page, Is My Business Venture A Scam?
How The Process Works
Once you decided if MBV is right for you, My Business Venture link and you'll be taken to their website, where you click the Contact Us Today! Button. Where you will fill out a very short personal information, with name, email, phone number, and message. Someone will get a hold of you shortly.
It's that simple. They will discuss with you, want you to want, your ideas and to see if you and they are a good fit.
My Business Venture is the company you need if you want simplicity and a website up and running in a day or two!
It streamlines the mundane process of website creation and set it up, which can be daunting all alone by itself. For a reasonable amount of money, I might add. MBV will with its fantastic support and know-how get you earning money in no-time.
All with the stellar reputation and support it that leaves little doubt about the legitimacy of this company.
Share This: