MagicLinks Review
Share This:





MagicLinks Review
Name: MagicLinks
Website: www.magiclinks.org
Price: Free
Owners: Brian Nickerson CEO & Co-Founder
Overall Rank: 8.4 out of 10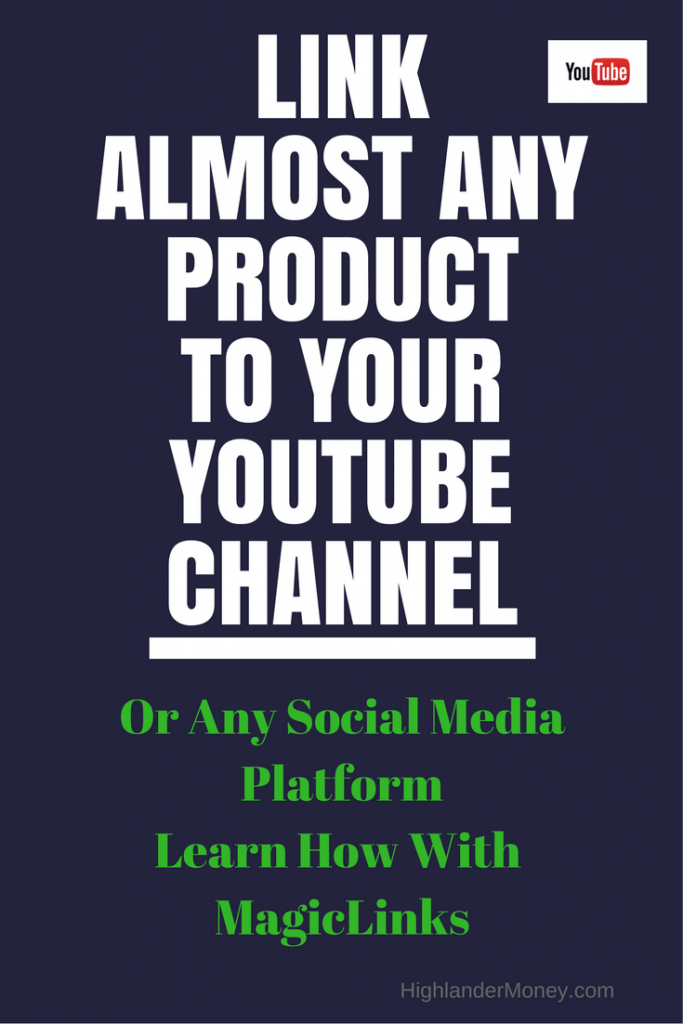 MagicLinks – Product Overview
What is MagicLinks? Can you make money with MagicLinks? How much does MagicLinks take in commission? Is it worth joining MagicLinks? In this post, these questions and more I hope to inform and introduce you to a possible way to make money within my MagicLinks review.
Are you looking to monetize your YouTube channel or Social Media site (Facebook, Twitter, Instagram)? Do you want also to earn extra money?
MagicLinks is first and foremost a free, and simple to use tool that enables you to create various products affiliate links and promote them online through various online media, like YouTube, social media, or website. They provide the tools for social commerce mostly for YouTube creators, but also other social media as well. Click here to Join MagicLinks Now!
So it basically is the one-stop shopping retailer for affiliate programs, (think Wal-Mart for affiliate programs) which allows you to effortlessly connect you (the content creators) to your visitors, fans and subscribers to almost any product being sold online.
The amount of products which have affiliate links is enormous! This is where you recommend products, review products and then provide a link on which people can click if they want to.

This makes it super easy to promote via affiliate links with any product you discuss your videos. For example product reviews, product recommendations, and stuff like that. Thereby effectively marketing the products that are relevant to that specific video or social media.
MagicLinks Connects + Fans, YouTubers & Retailers.
So when your fans, shop via your links you earn income from your fans purchasing products that you specifically placed there. You get paid via MagicLinks when a sales occur or when a click happens. Both (CPA) Cost Per Action and (PPC) Pay Per Click.
How Much Money Will You Earn Per Sale?
You earn a percentage of each sale made via you MagicLinks links. This percentage varies from store to store, and it's anywhere from 2 to 50%. With the average rate for the store being 8-9%.
So, keep in mind that out of that average of 8-9% you keep 70%, and MagicLinks keeps the remaining 30% for their part in providing convenience. Don't be frightened by the percentage MagicLinks takes as the usually get a higher commission due to their size than a single affiliate would by signing up.
You = 70%
MagicLinks = 30%
Payment Info
Payment is made on the 15th via PayPal of every month as long as you have at least $50.00 coming at you. If you don't reach this minimum, it rolls over continuously until it reaches $50.00.
MagicLinks Tools
Link Wizard – Easy to use creation tool for links. Allows creating multiple links with one click. Either YouTube Links or HTML Links also. See video above for more info.

Link Wand – If you are going to use MagicLinks you really need to install this tool on your browser. (Firefox, Chrome, Safari, Internet Explorer 9 and 10) This allows you to quickly create MagicLinks for any product or webpage directly from any retailer's site as you browse the internet. To install just simply drag the Link Wand button to your bookmark bar. See video above.

Product Links – To use this feature just paste link form product website URL into and click Generate Link.

Find Products – Enter product you are interested in promoting to see if it is available at MagicLinks. If it is, hover over products name, then click Create MagicLink. Then select and copy MagicLink. Paste it then to the video description.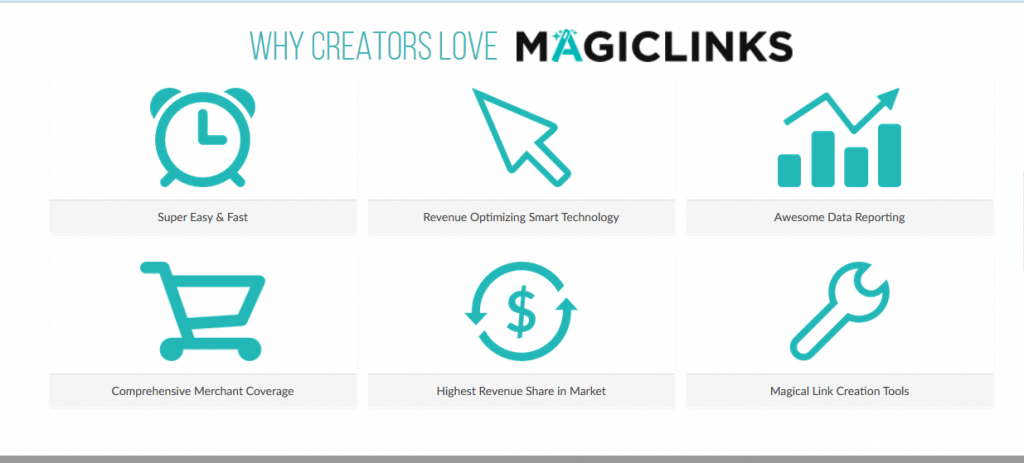 The Good & The Bad
The Good:
It's 100% FREE! Nothing to pay to get started.
A great forward-thinking CEO.
Simplifies the process of finding that specific company and joining that affiliate program, thereby saving valuable time for video creations. A real time saver!
Millions and millions of YouTube users and watchers, a great market with plenty of room for growth, and this is just YouTube, think of the other social media platforms.
Easy sign up for MagicLinks takes less than 1 minute.
The beauty of MagicLinks is that anyone can make a YouTube channel, and anyone can watch a YouTube Video, and it is not limited. MagicLinks can then efficiently help target specific markets for viewers, providing links to potential customers.
Allows content creators to be genuine, by only promoting the products they like, as they have hundreds of partners in which to
Allows you to make money without Adsense on YouTube.
Help your audience more easily find the products you're promoting and the same time getting paid for it.
MagicLinks is very open to talking to content creators, looking for ways to improve their business. Love seeing a company ask for feedback, and MagicLinks is very open to this.
Constant improvements to their site. With Brian Nickerson at the helm, he generally cares about his creation and wants to improve and follow the current working model.
Thorough videos each fully detailing each aspect of MagicLinks which gets you learning how to use properly and setup MagicLinks. Lots of walkthrough videos, I love this.
You can link to almost any product from nearly every retailer.
More than 1,500 retailers to choose from and more than 100 million products from these retailers to choose to promote. Options galore.
Room to grow, like with Facebook Live, available platforms in which to potentially monetize and also add value to your fans.
Can create multiple products affiliate links easily just by typing of pasting products names in Link Wizard.
MagicLink tools are very functional and smart.
MagicLink has an active referral program. You will make 40% for a year for each person referred. Up to $1,500 per refereed user. If you found my page helpful and want to join, I ask you help support my website by clicking my MagicLink referral link.
Chat is ubiquitously available on every page, making getting help a snap. This can be found at the lower right-hand corner of the screen.
MagicLink claims to negotiate higher commissions than you would be able to get otherwise by yourself from joining affiliate programs.
Only platform out there that potentially pays you on a (PPC) Pay-Per-Click basis on top of the commonly Pay-Per-Sale basis. This gives you multiple ways of earning income.
Payment is only made via PayPal.
The Bad:
You can get your own affiliate links and bypass MagicLinks as the middleman. That being said, it is convenient to have one spot to get affiliate links.
MagicLinks doesn't do this out of the kindness of their heart, like all business they make something off of you. How much? Try 30%. Interestingly enough, it also might be noted that MagicLinks claims that the 70% that is left could quite possibly be more than the 100% if you had joined the affiliate program on your own. My guess is some programs you will be making more and others you will not. ML recommends to try them out and see the difference.
MagicLinks Tips
Keep links relevant to the products reviewed or pertinent to your specific video.
Take a look at the MagicLinks Blog. Helpful and inspiring content to help you.
As with all affiliate marketing tactics, it takes time to start generating income. The key here is patience and consistency.
Use other social media platforms like Facebook Live, Snapchat, Instagram to also promote to your fans via MagicLinks.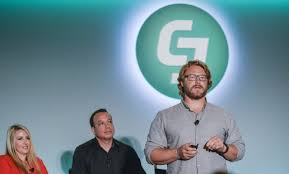 MagicLinks suggest and promote exclusively to keep your content authentic. What does this mean? It means to be genuine and honest, only promote something that you use and love.
Get familiar and use the tools at MagicLinks, these are your friends, my friends. Will save you time and simplify your experience, leaving more time for content creation. As we all know that creating content consumes most of your time. Just head on over to Tutorials once you are signed up, which is located on the right-hand side of the screen.
Take the time to become familiar with MagicLinks, view all the videos, read through the pages. You will gain a lot of knowledge and know-how by doing this.
If you can't find the specific product on MagicLinks, go ahead and join the affiliate program on your own. MagicLinks doesn't limit you to only them.
MagicLinks Alternatives
Any specific store affiliate program and also affiliate network programs like:
Amazon Associates Program
CJ (formerly known as Commission Junction)
ShareASale
Rakuten Affiliate Network
eBay Enterprise Affiliate Network
Tradedoubler
Who is MagicLinks for?
YouTubers but not limited to them either. Any social media, Instagram, Snapchat, Facebook Live. Also if you own a website. It sure makes it easier finding products in one location.
MagicLinks Tools & Training
Magiclink has the most tutorials videos I have ever seen, detailing and informing you on how to use their site and platform. They are all easy to understand and follow, making you an expert in no-time. You can tell someone here is passionate about what they do and want the best for their customers.
MagicLinks Support
The standard supports you can find here. It is all covered from the FAQ page, chat, Help page, Tutorials page, Email. Support is here in spades.
MagicLinks Price
All day and all night FREE, baby.


My Final Opinion of MagicLinks
Even though MagicLinks takes a cut from your commission sales (30%), they still provide a quality and easy to use platform that will generally save you time. As more time can be devoted to creating content, as the content is king. MagicLinks also is the only platform to also have a PPC program on top of their Pay-Per-Sell program. In my MagicLinks review, you will thoroughly see why I recommend it, as evident by the majority of positive aspects of its platform.
They also claim to have some higher commissions than joining affiliate programs by yourself, due to their numbers they can pull in a better percentage, more power in numbers sort of way. The training and support are top notch here at MagicLinks along with the active CEO Brian Nickerson are continually pushing this company to forefront and relevancy. I think most affiliate marketers would benefit significantly from joining MagicLinks. Give it a try and see for yourself
MagicLinks at a Glance…
Name: MagicLinks
Website: www.magiclinks.org
Owners: Brian Nickerson CEO and Co-Founder
Price: PRICE
Overall Scam Rank: 8.4 out of 10
VERDICT: LEGIT
Hold On, Before You Go…
If you have a YouTube channel and want to start venturing into owning a website that supports your channel and also make money with it. It provides the best training online along with the most helpful and friendly community online, with all the support to get you building your online business. I recommend you read my #1 Recommended Program and sign up to get started today.
---
Save
Save
Save
Save
Save
Save
Save
Save
Save
Save
Save
Save
Save
Save
Share This: