Is instaGC A Scam?
Share This:






instaGC Review
Name: instaGC
Website: https://www.instagc.com
Price: Free
Owners: Day Online Solutions, LLC
Overall Rank: 7.5 out of 10
insta

GC

– Product Overview
Is instaGC A Scam? Does instaGC work? In this review, I will be taking a more detailed look at another survey site, compared to my quick review of instaGC I did at my Earn Money From Home page. Besides their weird use of capitalization, instaGC is a survey site or a what is called a GPT (Get Paid To) site. Where you get paid to perform micro jobs like surveys, watch videos, calling and speaking on the phone, listening to online radio, visiting websites, testing apps or games, clicking, offers, shopping, tasks, and trials. The site is very clean and comfortable to navigate unlike some of its competitors.
instaGC stands for "instant gift card". It's kind of a misnomer because they do pay you in gift cards, but you can also redeem points for PayPal payment in cash but with a catch. That is after you receive an equivalent of $50.00 in gift cards, first, then you can earn money from PayPal. So, I prefer PayPal unless I'm buying something expensive at the moment.They also can pay via eCheck and direct deposit, but a small fee of various points will be subtracted from your points.
instaGC has distributed over 700,000 gift cards to date. That's a boatload, which means many people use this site. Which makes it kinda popular and trustworthy. With over 290 stores from which you can receive a gift card to, you surely won't be at a loss to use it somewhere. I like using it for Amazon purchases since I shop there a ton.
So instaGC has a points system, which is easy enough to understand. Basically, for every 100 points you have is $1.00. It's a lot like if you own pennies and how much they are worth in terms of dollars.
1

point
=
$

000

.01

10

points
=
$

000

.10

100

points
=
$

00

1.00

1,000

points
=
$

0

10.00

10,000

points
=
$ 100.00
You can rack up to $500.00 in one gift card if you choose. A side note here, the first time you want to redeem a gift card, you must verify from a one time phone call or text. The great thing about the gift cards is that they are instant, ready to use. Also, gift cards are not mailed only digital and electronically sent.
So, how much can you expect to earn daily at instaGC, it's kinda up to you, on how much effort and time you want to invest. instaGC claims some members earn up to 2,000 points a day. I would set a more attainable point goal than that say around 400 or 500 if you're committed.
Start Earning
To start earning you just need first need an account, if you don't have one you can create one here instagGC Create Account then click on the instaGC at the top left or the Earn button just right of it. There it will take you to the instaGC Wall. The wall is where instaGC list providers as well as available task above the wall if you want to do a various task, like Clicks or Videos. This makes it easier to find what you like or willing to do to earn points. Like if you just like watching videos or clicks.
The best way to determine what you are willing to do is by doing it all. Explore every offer and provider to see what you like to do. Then do that and earn. You'll find you won't want to do a certain task but others you are willing to do.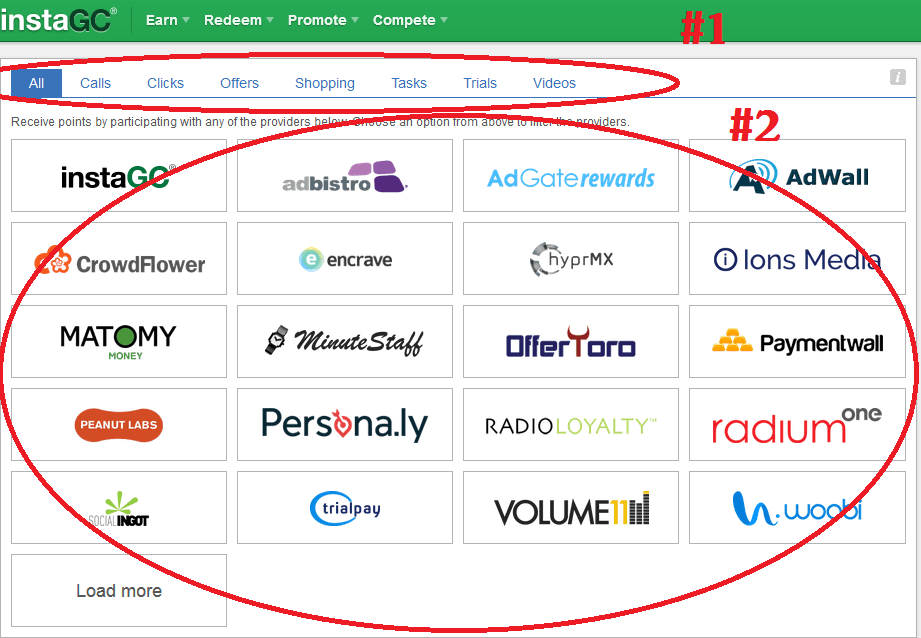 The Good & The Bad
The Good:
Multiple ways of earning points. Surveys, Point Booster Codes, Watching Videos, Receiving phone calls, shopping, tasks, etc… Me personally, I like doing the obtuse clicking on videos at adbistro.
An excellent option at instaGC is users can create their own Point Booster Codes to promote whatever they want or just to share the love. As an example, See Below Free Point Booster Code from Me, where I'll give away 20 – 10 point codes to the first 20 people. Keep in mind, if you decide to do this, the points will come off your points total. If you are interested, this can be done at  Manage Point Booster Codes. Just enter the name of the code the points per use and the number of uses. Then Click Create point booster code and then share wherever. Codes can range from here from 1 point on up to whatever you want to give away.
Ticker – This handy running box on the left-hand side of the screen, shows what current members have completed earning points. It's a great way to see what people are doing as it's usually the best ones and high paying and easiest. It shows the points and the number of users that got credited.
The option to use a mobile version for increased ways to earn points.
Has a goal setter on the right-hand side of the screen, to help keep you motivated to keep earning.
Opened to the whole globe so that everyone can join and earn.
instaGC has a referral program if you like this review, please register by clicking my Register instaGC link. As to support my website. Earn 10% of you what your referral earns.
Certain surveys you receive at least 1 point if you are disqualified.
Allows youngster 13 and up to join with parents permission. A great way to start making money online.
The Bad:
Long surveys – some as long as 45 minutes to complete. Have to determine if it's worth your time for the number of points received.
It seems to be ubiquitous, that sometimes surveys are not credited to you, which after spending a considerable amount of time doing them, to find out you weren't giving anything for completing the survey. This absolutely sucks, but it's pretty standard for survey sites as their verify software is anything but perfect. But this doesn't' happen all the time.
I had a hard time finding the About page at instaGC. Which is counterproductive as it has valuable lessons and guides to help better understand the site. This should be listed on the bottom of every page so it can be found easily.
Offers tend to run out on some providers more than others, which means they limit their offers to a finite number for the day and once they have gone their gone til they reload more offers.
If you give them your email you use regularly for registering for surveys, expect tons of spam or emails from companies that support instaGC. See instaGC Tips below.
instaGC Tips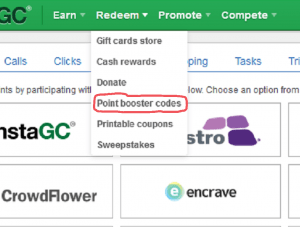 The #1 tip for all survey sites is clear your cookies and cache after every credited survey. Practice this religiously or suffer the consequences, of losing valuable time. They have programs that make this easy. Like CCleaner.
If your doing something like watching videos for points, like adbistro or Volume 11, by all means, you should be multi-tasking, while doing these. Don't waste your time, by just watching videos. Understand your time is very valuable and worth more than they pay you for the 1 minute and 30 seconds to watch three videos. If you have a second or third monitor put it on the monitor your not using and put the browser on that monitor and have it run there. Then click when needed on the video screen, such as NEXT, Start or Watch more as you work productively on something more important, while the video runs in the background. This is a great way to multi-task and earn money while doing it. If you are working steadily and in the flow on more important work, as I write for this website for example, don't stop writing just because the 30 seconds are up. When in the flow don't break it. Treat it as a secondary important task, not as a first important task. Keep it in perspective.
Use the Point Booster Codes – instaGC postcodes quite regularly, and this is a great way to rack up points with very minimal work. Point Booster Codes can be found on instaGC Twitter page, instaGC Facebook page, or my page located here instaGC Booster Codes. Points can range anywhere from 1 up to 10 points per code, they usually are 5 points or lower on average. You must enter the code within usually 24 hours to receive the points after that they don't usually work. So check often.
Create a separate email account on one of the popular free ones, like outlook, Gmail, yahoo. Use this email for all of your survey sites email survey requirements, when asked for an email enter the survey junk email site.
Have a little patience, and allow the screen to remain up until you have received credit.
If you have an old phone that you don't use anymore be sure to use it instead of your new phone to download apps to receive points. There is a lot of bloat-ware and stuff, and I wouldn't want to slow my new phone down. More options and ways to earn are unlocked using a mobile version. Keep the app until you are credited then immediately delete it unless you like the app of course.
Samplicio.us & Live Sample has some of the best paying surveys.
You can turn on Email alerts to receive emails that are worth 1 point each for clicking on the provided link. This can be accomplished through your account settings, then under email and (alerts), then clicking on for the mailing list.
Alternatives To instaGC
Who is instaGC for?
This is for someone that doesn't want to leave the house and find a second job, or someone looking to add a little money to their current income. I think instaGC is great for young teenagers to earn money, without getting a job, to be able to do it leisurely. 13 and up with parents permission, remember. But this doesn't exclude us adults out there that want to earn a little extra. Its more productive than watching TV.
instaGC Tools & Training
A nice feature that isn't easily found on the website is the tour. It runs through the entire layout of the instaGC site. It's great for the newbie to get a grasp on how to earn.
instaGC Support
There is quite a bit of support for a bunch of faqs and submit a ticket for a question to be answered is on every page, which is great and easy to find.
instaGC Price
It's free, like willy…
My Final Opinion of instaGC
instaGC is an honest survey or GPT site that regularly pays its members for tasks completed. Is instaGC a Scam? Heck, no…but you're not going to be starting any fires with hundred dollar bills either. Expect to make a meager wage by doing online surveys. But it is a great way to supplement your income instead of a second job. Its nice clean website makes navigating the instaGC site easy and straightforward. instaGC is a typical survey site with multiple ways to earn that make it refreshing. So I would recommend instaGC but with the caveat that there are better and easier ways to make money online.
instaGC at a Glance…

Name: instaGC
Website: https://www.instagc.com
Owners: Day Online Solutions, LLC
Price: Free
Overall Scam Rank: 7.5 out of 10
VERDICT: LEGIT
Save
Save
Share This: