Is Receipt Hog A Scam?
Share This:





Receipt Hog Review
Name: Receipt Hog
Website: www.receipthog.com
Price: Free
Owners: ScoutIt, Inc.
Overall Rank: 7.5 out of 10
Receipt Hog, Product Overview
What is Receipt Hog? Is Receipt Hog a scam?
I will cover this and tips and much more in my review of Receipt Hog. If you want a short overview on Receipt Hog, head on over to my page, Earn Money From Home. It's brief and to the point. I also reviewed another receipt app I did ReceiptPal Review.
Also, read below on how to legitimately double the credit for your receipts in Tips & Strategies.
But dare to find out more on this smiling pink swine, then continue to read on.
Getting started, we must first define what Receipt Hog is. Well, Receipt Hog is a free mobile app that is available for both iPhone and Android smartphones It collects your purchase information to research and to collect data from those purchases. Such as, tracking spending habits, items purchased, and store frequently visited. Basically, marketing research. They then in turn, pay you for allowing them to access this information by way of you submitting your receipts. Simple and slightly invasive.
How It Works
Simplified In 3 Steps

Shop at any retailer, big or small.
Snap a picture of your receipt, using your Receipt Hog App with your phone.
Get paid!!!!
This is one of those apps that is so ridiculous easy to do and takes very little time out of your day. Easier than eating bacon, I guess… The layout and ease of use of this app is well thought out. It's just purely simple and that is a good thing. Takes very little effort to stay on top off adding your receipts and it's kinda fun also.
How this little pork chop of an app works, is by you taking pictures with your smartphone of your daily shopping receipts and then submitting them to Receipt Hog.
By doing this you either earn Coin Rewards or Spin Rewards. Yeah, rewards!! Coins Rewards can be redeem for real cash by the following two methods, either through a deposit in Paypal (the method I prefer) or though an Amazon gift card. Spin Rewards are awarded with each qualifying receipt at a chance to win Coins via their Hog Slot machine. No guarantee your going to win any coins, but you never know, right?
Levels
To reach the top of the Pagoda at Receipt Hog heaven you must submit receipt weekly. There are 25 possible levels to attain. With each successful advancement of levels you receive, either bonus spins or coins. You start at level 1 and for each week you submit a receipt, you get closer to that next level. So it takes more weeks submitting receipts to get to the higher levels. But with each level ascended the thicker the pork belly you receive. (coins or spins)
So, when you are checking out at a store remember always say, "YES" now, when the clerk ask you, "do you want your receipt?" You will find your self saying, "NO" inside your mind, then you remember, I downloaded this receipt app thingy. Oh wait, "yes, I want that receipt". I still find myself doing this even months after using this app
Rewards
The amount of coins you receive depends on the amount you spent and what store you spent money at. Different types of store gives you different types of rewards. So, basically there are two types of Rewards: Coin Rewards and Spin Rewards.
Coin Rewards
So, your probably wondering how much coins do I get if I spend a lot of money. The more you spend the larger the coins you receive. Well, check this out.
<$10 = 5 coins
$10-$50 = 10 coins
$50-$100 = 15 coins
$100+ = 20 coins.
Types of retailers that you get Coin Rewards for submitting receipts.
Grocery / Supermarket
Supercenter
Club (Cash and Carry)
Closeout & Discount
Health (Chemist)
Bargain (Dollar / Pound Shops)
Drug & Pharmacy
Liquor (Off-License)
Convenience & Corner Stores
Beauty Supply
Pet Supply
Toy Stores
Mom-and-Pops, Bodegas & Newsagents
Spin Rewards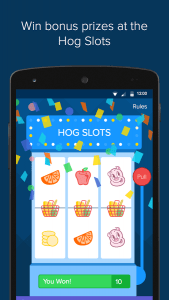 Each Spin receipts, earns only 1 spin at the Hog Slots.
Types of retailers that you earn Spin Rewards for submitting receipts from. You do not receive coins from these retailers, but you do receive spins on the old Hog Slots.
Apparel
Department
Home Improvement
Home Furnishings
Office Supply
Electronics
Mobile Carrier Store
Arts & Crafts
Sports & Outdoors
These types of receipt will earn you no pig love. So avoid wasting your time snapping pictures of these.
Ticket Stubs
Service Invoices
Credit Card Slips
Hand-Written Receipts
Receipts Older Than 14 days
Refund/Return of Purchase Slips
Non-Standard Receipts Not Printed From a Cash Register
Receipts From Non-Retailer Businesses (i.e. service, entertainment, government, utilities)
Redeeming Coins for Cash
The longer you wait to cash out and accumulate more coins, the greater of coins to cash ratio is in your favor.
1000 coins to get $5 (minimum needed to cash out).
1800 coins to get $10 – if you wait you save 200 coins
3200 coins to get $20 – and so on
4500 coins to get $30 – and so on
Monthly Sweepstakes
Also a small bonus, every receipt submitted to Receipt Hog gives you an entry into their monthly Sweepstakes drawing. This pink pig apps will show you how many participants are in the monthly drawing on the home page, along with your entries for the month. The more entries, the more chances to win.
Just entries into the Monthly Sweepstakes from these retailers. So it might be worth submitting, just for the odd chance of winning. I just submit all my receipts and let the chips fly wherever they land.
Gas / Petrol-only Receipts
Receipts from Restaurants & Bars
Receipts from Bakeries, Delis, and Cafes
Prize                     Number of Winners
5000 coins          5
200 coins            500
20 coins              5000
The Good & The Bad
The Good:
Can cash out when you reach $5.00. (but you get a better deal if you wait and accumulate more coins)
Simple and Easy to use. So simple a pig could do it.
Rewards Active members by allowing them to earn more coins by taking a short survey, barcode scans, or just simply more spins at the Hog Slot.
Every Month has Challenges, which you can earn bonus Hog slots spins! Just submit a qualifying receipt for each week in the month to be entered.
Long Receipts are not a problem, just make sure you snap a picture and keep moving down to get everything on the receipt. Then click the Done button. Taking as many multiple pictures as necessary.
6-1-2016 as of now, Receipt Hog accepts Amazon receipt by connecting your Amazon account to Receipt Hog. You can connect via the Rewards tab. While they don't except all e-receipts yet…this is a nice step going foreword.
The Bad:
20 receipt maximum for a week.
You not going to get rich with this app.
Loss of privacy on what you submit. Keep in mind, if your not comfortable sharing a receipt, skip that one. Easy. Somewhere, somebody is observing what you purchase and bought and where you shopped. No free rides, something always cost something.
Receipts need to be uploaded within 14 days of transaction. After that they are just good fire starters.
Need to stay active or account will be taken away. Word on the street is 3 months of inactivity.
Some receipt take longer to clear. But it usually the same day or hours.
E-receipts do not currently qualify for rewards. **Update 6-1-2016, they now allow you to connect to your Receipt Hog account to Amazon to earn coins by connecting your account to Amazon.
Referral program for the U.S. has been stopped due to to many people joining already and reaching Receipt Hog's carrying capacity. Bummer…But the U.K. still has their referral program up.
Receipt Hog Tips & Strategies

Make sure your receipts pictures are nice and clear when taking pictures of them. If the picture is out of focused, I tap the screen then the image becomes clearer, then hold steady and snap photo.
If you bought something personal and don't want to share with the Receipt Hog, simply take a black marker and cross it out on receipt. I am embarrassed to share the amount of toilet paper I buy, FYI. jk.
Once you reach 100 coins for the week, you should stop submitting and wait til next week to submit them. For you will only receive 5 coins no matter the value of money spent.
A little useless bonus information about Receipt Hog, when you are in the app if you touch the pig, you get a sound that is a pig grunting. GREEAAATTT !!!!!!Huh…but I just find myself doing it for no reason at all.
When you are in the app under Receipts, you can view and see what your receipt qualified for. Just right of the amount in the receipt tab you can see a symbol. This symbol tells you what your receipt qualified for. Either Spin Receipts for Hog Slots, Entries in Sweepstakes or Coins for Cash or gift card, or a combination of these. It's just a quick way to see what is what if confused.
Another great tip is to use Receipt Hog and ReceiptPal, Ibotta, and Checkout 51 for the same receipts. Submitting your receipts to both sites to help you earn twice the amount for the same receipt. A great way of doubling up. I have been doing this for a while and both companies have never rejected a receipt yet for doing this. I haven't heard anybody mention doing this, so this makes it a Hot Tip.
As of 6-01-2016, if you link your Amazon Account to Receipt Hog, they give you an initial 36 coins, then for each subsequent month you remain linked to your Amazon account you will receive 5 sweeps entries every month.  This can be done through the Rewards tab within the app at the lower right hand side.
Connecting your email with Receipt Hog they will also award you 100 coins for doing this. A great way to start building up you coins. You can connect this through the rewards tab button.
Apps Similar To Receipt Hog
Some similar apps to Receipt Hog are Ibotta, Checkout51, and ReceiptPal. You can check out my review I did on ReceipPal Review.
I also recommend you check out Dealspotr here, you can read my review here, What Is Dealspotr?. Why? Because it's so easy to earn money and save money too. It's one of my favorite right now at the moment.
Who is Receipt Hog For?
Just about everyone with a smartphone would benefit from using this app. People willing to invest a smidgen of their time for a small monetary gain. I think the trade off for time invested scanning receipts is a fair trade off for money received. It's a another avenue for people that love to clip coupons or that take advantage of store deals to save an additional amount.
Receipt Hog Tools & Training
It so simple to use this Hog of receipts, there is not much in the way of training. But RH does have a support page on their website and a place to submit a question or get help.
Receipt Hog Price
FREE!!! (oh wait, a little of your privacy is lost) Maybe that matters maybe not.
My Final Opinion of Receipt Hog
Is Receipt Hog a scam? No, hell no, it ain't. The small amount of negatives don't overshadow the benefits of using this little money maker app. They definitely pay people and is a widely used app, so this is a totally legit app that pays money. The short amount of time to take pictures of receipts it is almost effortless. So I highly recommend this pink portly porker of an app named Receipt Hog, so feel free to feed this pig…
Receipt Hog at a Glance…
Name: Receipt Hog
Website: www.receipthog.com
Owners: ScoutIt, Inc.
Price: Free
Overall Scam Rank: 7.5 out of 10
VERDICT: LEGIT
---
If you have any questions or would like to comment on Receipt Hog, please do so below. Thanks
Save
Save
Save
Save
Save
Save
Save
Save
Save
Save
Save
Save
Save
Save
Share This: