What Is TeePublic? TeePublic Review
Share This:





TeePublic Review
Name: TeePublic
Website: www.teepublic.com
Price: Free To Join
Owners: Josh Abramson
Overall Rank: 7.5 out of 10
TeePublic – Product Overview
What Is TeePublic? I hope to explore and reveal all the significant positives and negatives of designing and selling t-shirts with this print-on-demand website, TeePublic. Probably, more importantly, determining if can you make money designing t-shirts at TeePublic?
Diving right into this, TeePublic is a website where you design and upload your artwork to their site. Then visitors/customers can come to the TeePublic site and purchase the shirt or product.
All the while, TeePublic handles the printing of the shirts and shipping/handling.  Leaving you solely,  to just designing and marketing your products.
TeePublic has been around since 2013. If you don't recognize TeePublic's name, you might recognize their other company BustedTees. As this is highly advertised on the internet.
Now you might be asking yourself, what kind of products could I put my artwork on?
Good question! Plenty…I love all the options TeePublic has to put your artwork on.
T-Shirts,
Kids T-Shirts
Infant Onesies (first time I've seen this offered at a print on demand business)
Tank Tops
Hoodies (Zip Up Hoodies are the only garment where back printing is available.)
Crewnecks
Art Prints
Posters
Canvas Prints
Phone Cases
Mugs
Notebooks
Laptop Sleeves
Stickers!!!
So, when you first upload any new artwork or design, that design is immediately on sale for the first 72 hours (3 days). Don't worry your product will still be available to purchase after the initial 72 hours have passed but at a regular price. This is called the sitewide rate after the initial 72 hours have elapsed.
How Much Do You Make Per Sale?
The commission you make at TeePublic is set…yes in the "proverbial" stone. Where there are NO adjustments like other sites, for example, Redbubble, where you can adjust your potential commission and profits to what you see most fit.
As there is no changing the prices for your designs at TeePublic. As there is only two prices, the sale price, and the sitewide price.
Shirts on sale sell for $14.00 (Sale Price)and for regular priced shirts $20.00 (Sitewide Price).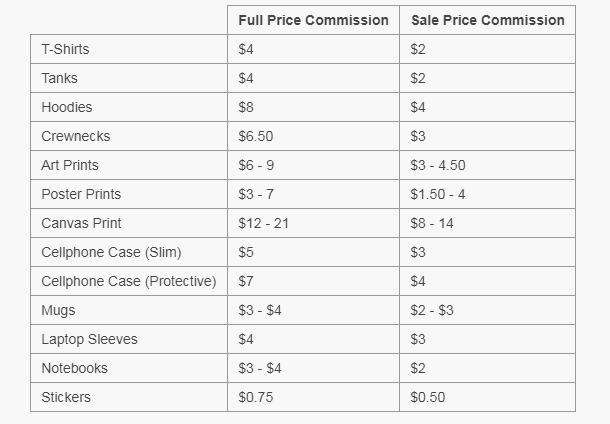 You can make up to 31% commission by selling your own merch or by selling someone else's work for 11%.
That is the great thing about TeePublic; you don't have to be artistic to make money here, you could promote others' work and still make money on the selling of others artwork. If you find a design you really freaking love, go promote that.
Important note on referred sales, it's a 30-day cookie. So any sell within that time frame you make a commission on.
11% of referred sales.
31% of Selling your own products.
How Are You Paid At TeePublic?
Currently, at TeePublic, they offer only two methods of payment. Payments are made on the 15th of every month for the previous month's sales.
PayPal
Payoneer
Required Files Type & Settings At TeePublic
PNG files
150 DPI or above
1500 x 1995 px or larger (the higher, the better)
CMYK but they do except RGB files as well.
The Good & The Bad
The Good:
An 11% of all referred sales for existing designs. As you don't have to design any products just promote and market sales. A nice option for the artistically challenged.
It's all free here, to join, to uploading, and selling. Hip Hip Hoorah!
No limit on the number of products or designs you can create.
I really like how when you first upload your design; it is immediately discounted at a sale price. This is a great way to increase exposure and possibly sales.
A 31% commission on sales of your own merch. Holy Cow!!!
Multiple ways of earning money at TeePublic: Direct sales of merch and also referring sales.
You don't have to be designed to make money here. You can list other people work in your storefront.
An excellent rating on Trustpilot.
Infant Onesies to design for and sell. This is unique, and I haven't seen this offered anywhere else a nice caveat.
I love that they offer PayPal. My preferred method of payment.
A well-respected name in the industry, as well as other companies owned by the owner. (Busted Tees, CollegeHumor and Vimeo)
60 different colors in which to put your design on.
Any color can be used from the CMYK color palette or any you can create.
They do accept RGB files, as well. But which they will convert to CMYK, FYI.
Their uploader is nice and simple to understand.
No limit on the number of colors. I love no limits.
You the designer, retain the rights to all of your work.
Ability to track information on Google Analytics.
No time limit on campaigns, some sites require you to relaunch a new campaign once the time runs out. I really like this. Saves me time and worry, as I already have enough to do.
If you need help designing, they will help you. Don't be afraid to reach out and ask for assistance.
Flexible and willing to work with you.
Great community support.
TeePublic offers a Newsletter and Blog. Worthy of signing-up and reading.
Excellent options to see what is hot and what is selling by looking at the Trending Tags options.
Simplified pricing for customers, which could be a real attraction to shoppers. No confusing prices.
The Bad:
Initially, when you upload your artwork, it will be on sale for 72 hours. This translates to you, as a lower sale per commission (see above) but…it might also translate to more eyeballs on your product as well as to your storefront. Along with possible more sales. It's kind of, a horse a piece on this feature.
Limiting commission!!!! No option to adjust prices or commissions. There are only two price options at TeePublic,  a sale price, and a sitewide price. That's it, people. Sometimes a particular design takes a lot more time and resources than go into designing it thus may be worthy of a higher price.
Front printing on shirts only. At the time of this review, this is the only option. So, no back or sleeve prints on shirts. Except for the Zip-Up Hoodies.
TeePublic Tips
I highly recommend you check out my page Tips On Designing T-Shirts And Selling Them Online. Here you'll find, valuable information and relevant links to stepping up your t-shirt designing game.
If you want to get into t-shirt designing and don't have the graphic design skills, head on over to Skillshare. They offer super cheap monthly payments to learn at your own pace. How Cheap? $10.00 a month to learn all kinds of skills taught by professionals. Well worth the price!
Do you need cool fonts? Or brushes, designs, vectors, patterns, and more. Creative Market is a must-visit website for cheap resources that are usually bundled for a low low price.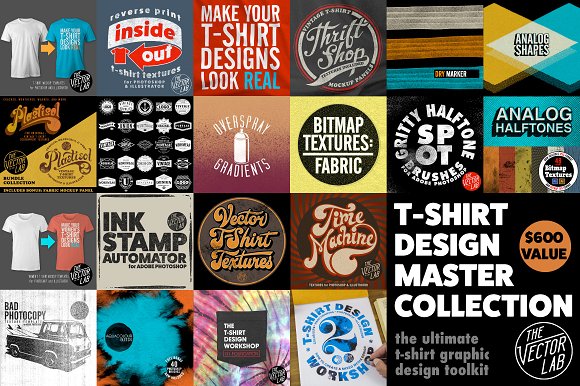 Also visit Mighty Deals, similar to Creative Market. They also have fantastic deals as well, that will definitely step your designing t-shirt game up.
By all means, create a store while at TeePublic. You can sell as many products, as your heart can design. So get to it, BROTHER!!!
If you are anything like me, you have a font problem. Being you have way too many fonts to efficiently find the right one. But I purchased MainType, and this has made all the difference. I can quickly browse through them fast and furiously. They also have a free version too. Check it out!
You need to check out their Guide page for Designing For DTG. DTG is their type of printer they use to print their shirts and garments. What kind of files they want as well as resolution as well as dimensions. All the technical stuff.
No pornographic or profanity art. If that is your bag, Redbubble allows that stuff. (see below)
Fill out the most tags you can when you are uploading your artwork. This helps visitors correctly find what they are looking for.
Add an avatar to your profile, fill out a little information about yourself, add a banner to your storefront. People love to learn about the artist and are more likely to follow you.
Read the FAQ page, very helpful for newbies and vets as well.
TeePublic Alternatives
I have posted below, the actual print on the demand website link, then a link to my review. Worth a read. Redbubble is my top choice btw.
Who is TeePublic for?
You don't have to be an elitist to make money at TeePublic, if you simply have the desire to earn income and put in the hard work, you can succeed. If designing t-shirts and marketing those t-shirts sound appealing to you, I would recommend you to explore that itch. It's very satisfying. I have dabbled in it a little, and it's a nice break from writing reviews and blog posts.
TeePublic Tools & Training
See TeePublic Blog for tools and training.
TeePublic Support
Multiple forms of support. A great sign of the company's health and legitimacy.
They offer Chat, FAQ, Where's My Order?, Phone (OMG, really? Yes!), and a Contact Us page.
My Final Opinion of TP
I really like the overall features of TeePublic. This is owned by the same company of CollegeHumor, Vimeo, and BustedTees. So, there is definitely legitimacy with TeePublic. They also have a few products other print on demand business doesn't offer. Which is an alluring factor as well?
Simplified pricing doesn't hurt either and allows all designers to compete on design only, instead of having price wars. The commission you make is decent for referred sales, but more emphasis should be placed on your own store with the design you created, as you can higher commissions on these. I also really love that there is no time limit on campaign length.
Feel comfortable with TeePublic to sell your designs. Excellent quality and consistent on-time shipping as well. It is also one of my higher-ranked t-shirt print on demand ratings for this type of business. Their design promotes sales and more importantly high commissions.
TeePublic at a Glance…
Name: TeePublic
Website: www.teepublic.com
Owners: Josh Abramson
Price: Free To Join
Overall Scam Rank: 7.5 out of 10
VERDICT: LEGIT
Hold On, Before You Go…
Since I already know you're interested in making money online, I recommend you read my #1 Recommended Program and sign up to get started today. This will teach you how to use affiliate marketing to make money effectively. Check it out.
Share This: